"Resurgence" is a three-story mural comprised of handmade, hand-carved terra-cotta tiles with glaze finish (1). The piece (roughly 32′ high by 18′ wide) was created by Yoshio Taylor and commissioned by the UC Davis Medical Center for the main lobby of their Surgery and Emergency Services Pavilion.
Taylor spent 18 months and 9,000 pounds of clay to create this mural which is made up of 500 tiles each weighing 8-10 lbs (2). Taylor describes in this interview that Resurgence is his largest work to-date and the first time he has combined terra-cotta tile with glaze finish (3).
This time-lapse video shows Rich Patrick of Sherman-Loehr Custom Tile (4) mounting the tiles over a five-day period. I enjoyed seeing the sun moving across the frame, creating a time-scale of the mural's installation (5).
While designing a mural for the lobby of a medical center for surgery and emergency services, Taylor imagined the chaos and stress that people might be feeling in this place. He sought to create something that would be "soothing to their soul and mind" (6). He decided on a waterfall because it evoked strength as well as calming. In an interview with Kristie West, Taylor said:
"I wanted an image that would soothe the people, calm people down and at the same time project a positive image," he said. "In most cultures, water is a healing type of thing. And a waterfall is pretty dynamic and soothing." (7)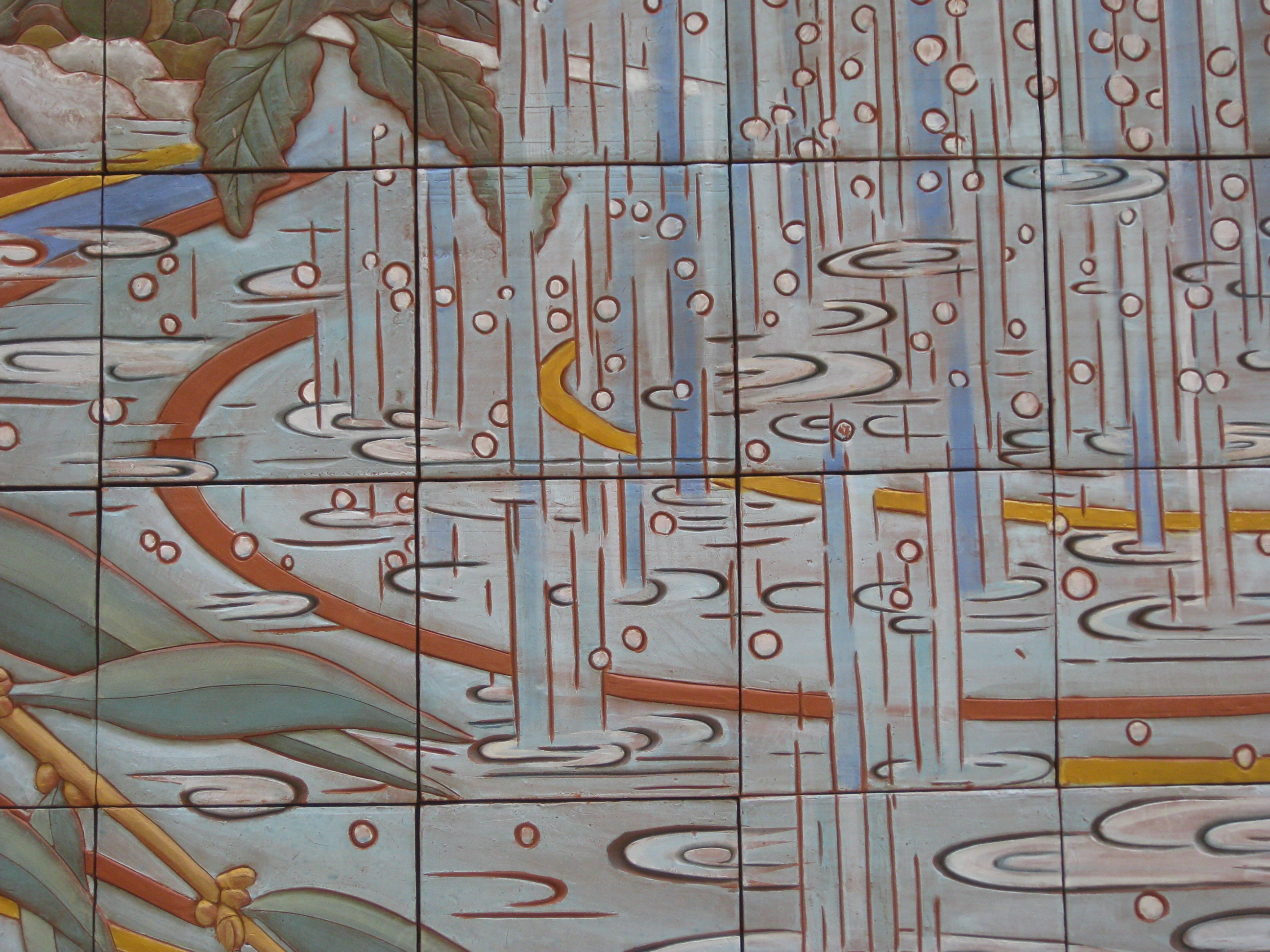 To coincide with a healing and curing theme, Taylor included images of real and mythical fauna and medicinal plant life such as Echinacea and dandelion (8).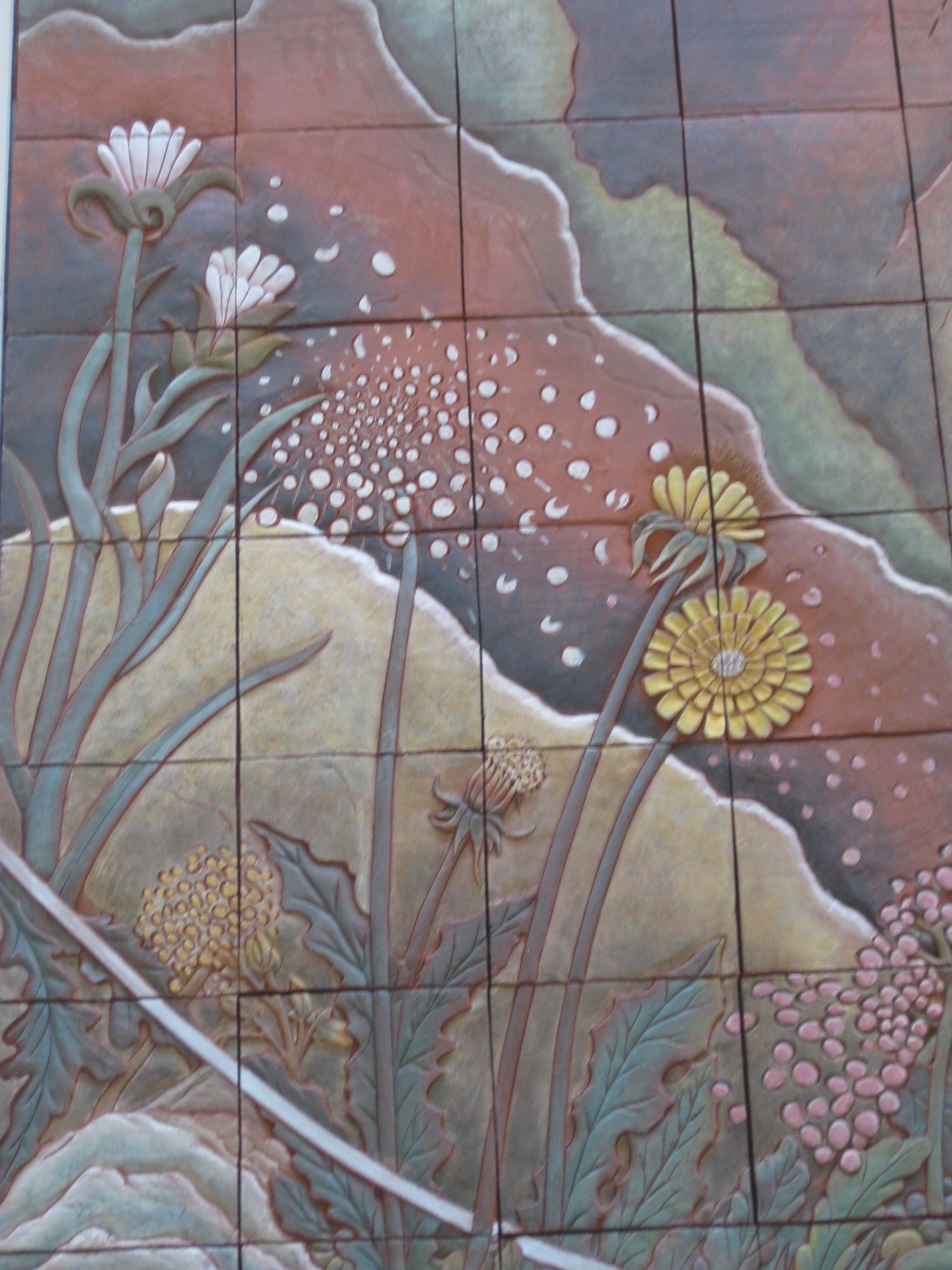 Taylor immigrated from Japan in 1955, earned his BA at CSUS in 1979 and MFA at UCB (9, 10). He has been an art instructor at Cosumnes River College for over two decades where he teaches classes in sculpture and three-dimensional art (11).
John Natsula's gallery has a profile page for Taylor with images of his ceramic sculpture. Be sure to click on the last image in the list which is called, Cycle, it is stunning. On that profile, Peter London describes Taylor's work this way:
"Like all good art, the work of Yoshio Taylor requires nothing more to enjoy than a ready pair of eyes-or sensitive fingers. His work is so emphatically present and appealing that one need know nothing further about Taylor or the themes that he investigates. The images are clear and robust. They are skillfully carved and handsomely glazed; the symbols and forms are somewhat familiar and also sufficiently novel so as to draw the viewer closer for finer inspection." (12)
Taylor has many public art works, including an installation at Plaza Escuela in Walnut Creek near where I attended high school. The article describes how he used "the surrounding environment – the plaza's name, the location, local flora and fauna, endangered species, and Mount Diablo" as inspiration (13).
Sacramento Metropolitan Arts Commission lists 4 public art pieces by Taylor in their Art in Public Places online collection. His Sacramento pieces include a work called, Spherical Discourse, installed at the downtown plaza, and this is one of the pieces included in the Art is All Around Us walking tour I posted on last fall.
In 1985, Taylor created a ceramic mural honoring the internment of Japanese Americans during World War II for the chambers of the Sacramento County Board of Supervisors at 700 H Street in Sacramento. During the same period the mural was created, the board decided to pay restitution to 4 Japanese American county employees who lost their jobs at the time because the board supported the internment (14). The mural includes poetry by Hiroshi Kashiwagi called, Japanese Americans 1942-1946 (15). I'll be visiting this historic mural and posting on it in the near future.
The Sacramento Bee offers a photo gallery of the mural and KCRA posted a video on youtube around the time of the mural's installation in September 2010.
I also plan to post on the UCD Med Center's large art collection consisting of over 2,000 pieces commissioned since 1985 (16).

Title: Resurgence
Artist: Yoshio Taylor
Date: 2010
Media: Terra-cotta tiles with glaze finish
Location: Lobby of the UC Davis Medical Center Surgery and Emergency Services Pavilion, on X Street between Stockton and 45th Street


View Pedestrian Art, Sacramento in a larger map
(1) http://www.ucdmc.ucdavis.edu/medicalcenter/features/2010-2011/11/20101104_waterfall-mural.html
(2) http://www.crc.losrios.edu/Events_and_Culture/Campus_News/Yoshio_Art_Mural.htm
(3) http://www.ucdmc.ucdavis.edu/medicalcenter/features/2010-2011/11/20101104_waterfall-mural.html
(4) http://www.sacbee.com/2010/09/25/3055403/a-peaceful-refuge-rises-at-hospital.html
(5) http://www.ucdmc.ucdavis.edu/medicalcenter/features/2010-2011/11/20101104_waterfall-mural.html
(6) http://www.ucdmc.ucdavis.edu/medicalcenter/features/2010-2011/11/20101104_waterfall-mural.html
(7) http://www.crc.losrios.edu/Events_and_Culture/Campus_News/Yoshio_Art_Mural.htm
(8) http://www.crc.losrios.edu/Events_and_Culture/Campus_News/Yoshio_Art_Mural.htm
(9) http://www.crcconnection.com/2.9558/art-professor-displays-new-sculpture-1.1370996
(10) http://www.natsoulas.com/html/artists/yoshioTaylor/yoshioTaylor.html
(11) http://www.crcconnection.com/2.9558/art-professor-displays-new-sculpture-1.1370996
(12) http://www.natsoulas.com/html/artists/yoshioTaylor/yoshioTaylor.html
(13) http://www.nowville.com/contra-culture/articles/featured-artist-yoshio-taylor/
(14) http://digital.lib.csus.edu/cdm4/item_viewer.php?CISOROOT=/mats&CISOPTR=123&CISOBOX=1&REC=16″
(15) http://www.asianamericanbooks.com/books/3588.htm
(16) http://www.ucdmc.ucdavis.edu/medicalcenter/features/2010-2011/11/20101104_waterfall-mural.html