Update 7/2012: Sadly, Nine16 closed up shop and the mural has been painted over.
Stephen "Vaquero" Williams created this mural for Nine16 Skate at 32nd & Folsom (http://nine16skateshop.com/ or http://www.nine16.net/). Nine16 is an independent skate/barbershop owned by local skaters, Bobby Ingle and Todd the Barber (1). Tom Sorci was also an original cowner but was tragically killed by a hit and run driver while riding his bike in Sept 2009 (2). Bobby and Tom were 14 when they started a 6 year campaign to launch a skate park in Rocklin, where a memorial bench and plaque for Tom were installed last summer (3).
This News & Review interview , given in May 2009 before Tom was killed, is a great read about all three owners and their dedication to skating and the community. Here are a few quotes:
Ingle: Our stuff is affordable, shitty economy or not. We're not trying to get rich off nothing; we're just in it for the love. Especially more than anything, it's about camaraderie. The longest relationships I've had are the people I skated with. You meet up with people you haven't seen in years, you go skating again, it brings you right back. Skating keeps you young, whether you're 14 or 40. You can't replace that with anything. That's why we started this. I come to work and spend the day with my two best friends in the world doing what we love to do. That's why the shop's called Nine16, we want to represent everything Sac and the people here.

Sorci: We don't only own the shop, but we're out there with these kids all the time. We don't hide at home; we skate every day with them and we want to give these kids a home and provide a positive atmosphere.

Ingle: Skateboarding is just an outlet. You put your energy into it, and you get something positive out of it, and that's the image I want skateboarding to portray everywhere it goes.

So when did you guys decide to open a skate shop?

Ingle: I've been skating with Tom for going on 20 years, and we've been talking about doing this since we were 12 or 13. It's always been a dream of ours.
The first reference I found to the artist, Steve Williams, was on Russ Andris' post of the same mural. Andris also has a post on the mural by Williams that is inside the shop. The bottom right of the mural is a website address, theartofvaquero.com, but the page has yet to load. Googling, I finally found this Speak & Bheard blog post with a bio of Stephen "Vaquero" Williams. Williams was born in Sacramento and now lives in Portland. His website http://stephenvwilliams.com/ also has yet to load.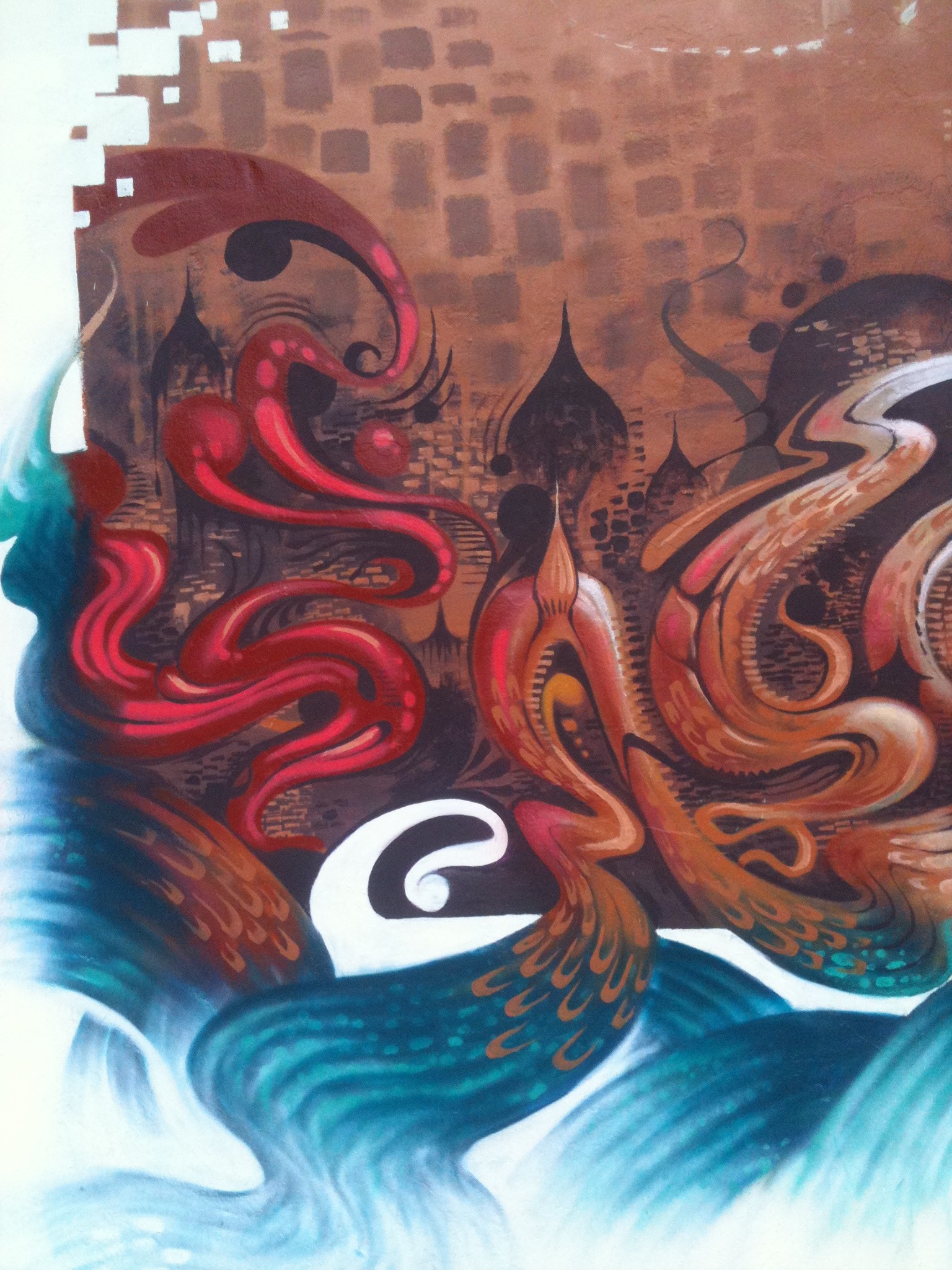 Nine16 has a skate team that competes and a youtube channel with a few skate videos posted. The channel has a tagged favorite video of a young pregnant woman singing Michael Jackson and dancing in her kitchen. It's a crack-up!
One of their pro-skaters is featured in this fabulous photo ad for Nine16.
For some generally excellent skating photos (some associated with Nine16, some not), check out The World's Best Photos of oliie and rail.

Title: (unknown)
Artist: Stephen "Vaquero" Williams
Date: 2009
Media: Spray Paint
Location: West wall of Nine16 Skate shop at 32nd & Folsom http://nine16skateshop.com/ or http://www.nine16.net/


View Pedestrian Art, Sacramento in a larger map
(1) http://www.newsreview.com/sacramento/content?oid=997239
(2) http://www.flickr.com/photos/casch/3903944344
(3) http://placerherald.com/detail/156243.html