A 400 foot aerial map wrapped around the side of the Alhambra Reservoir creates an image of the water-flow drawn from our rivers and wetlands into the reservoir then delivered from there to our communities. Michael Bishop, a Fulbright scholar and art professor at Chico State, created this piece which was installed in 2005 (1, 2).
The water map appears a burnished gold during the day, and a night 2,000 feet of blue LEDs illuminate and animate the map. The dark spots in the LEDs that need repair detract from the effect, but it is still fun to watch the blue circle of the reservoir empty and fill every few seconds, simulating the daily water draw and re-supply (3):
The polyhedron-shaped reservoir was built in 1937 and holds 3 million gallons of water (4). The bottom 100 feet of the structure was previously home to a blood bank but now is home to the special operations and training facility of the Sacramento Fire Department (5). During World War II, the entire reservoir was painted in camouflage symbolizing the fighting abroad (6).
Bishop's page for this project includes some excellent nighttime photos and he writes about the inspirations for the piece:
I was taken by how the water tower actually functions and at the same time, the urban history and urban myth surrounding it. It was painted in camouflage during the war, and still called the blood tank by locals from the days when the blood bank offices were downstairs. I was also interested in the tower as a symbolic contrast of organic space versus human made space – Jeffersonian grid meets American river. Maybe it boils down to the notion that I am not the believer in western narrative that I once was. It may seem odd, but to me, the work today is distilled and poignant, like focusing on an expansive horizon and realizing after awhile you are not spacing out, but taking it all in.
The 12-foot-tall, 350 lb concrete vessels decorating the top of the tank are a complement to the relief that appears above the main entrance (photo below). Stored inside the vessels are drawings and letters from local schoolchildren inspired by their lessons on the water tower (7).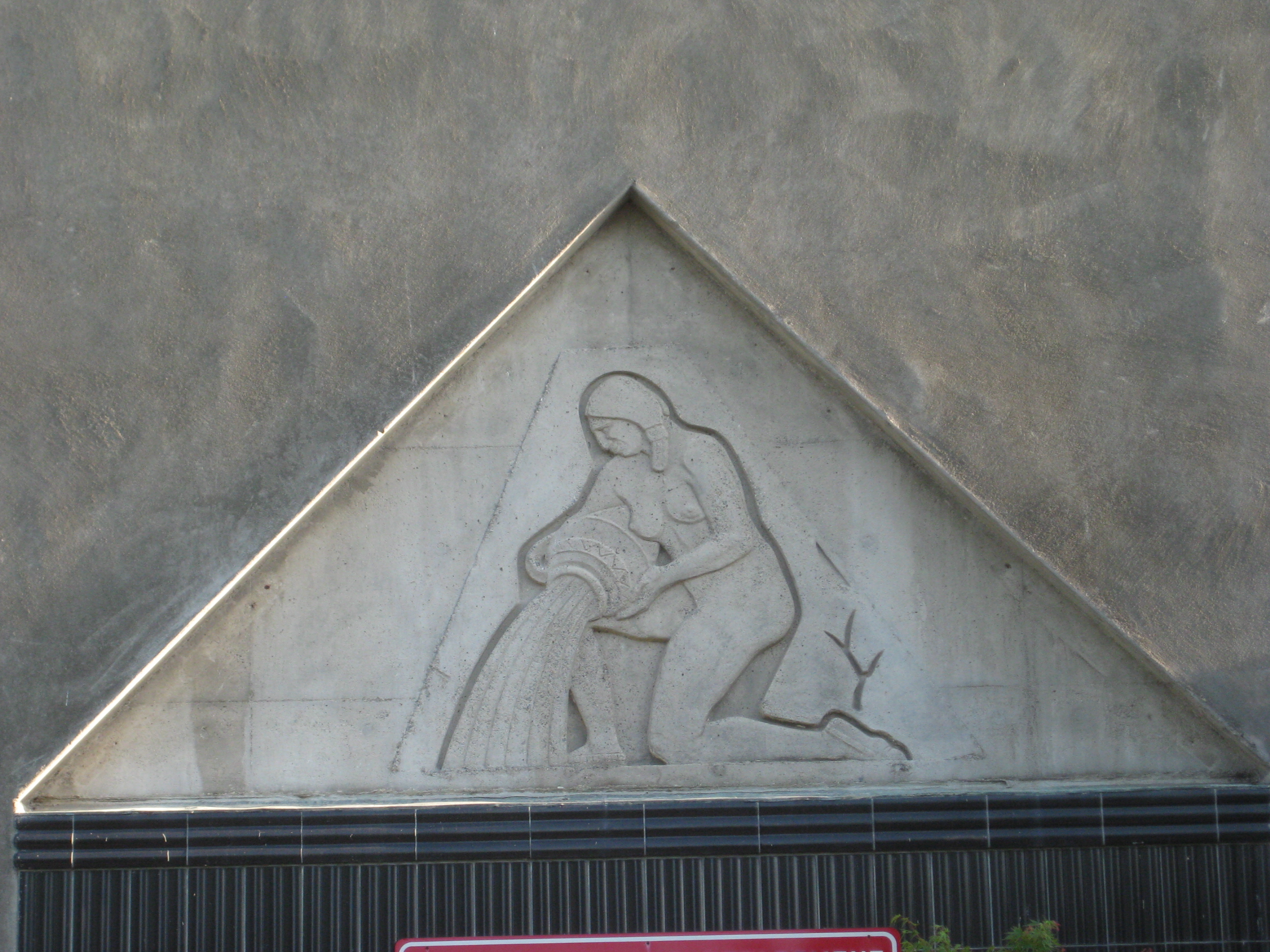 Researching this piece, I ran across several photos of scooters parked in front of the reservoir. They are playing Scooter Tag, a game where riders take a picture of their scooter in a local spot (without identifying where) and other people have to figure out where the location is and then take a picture of their scooter in the same spot (8).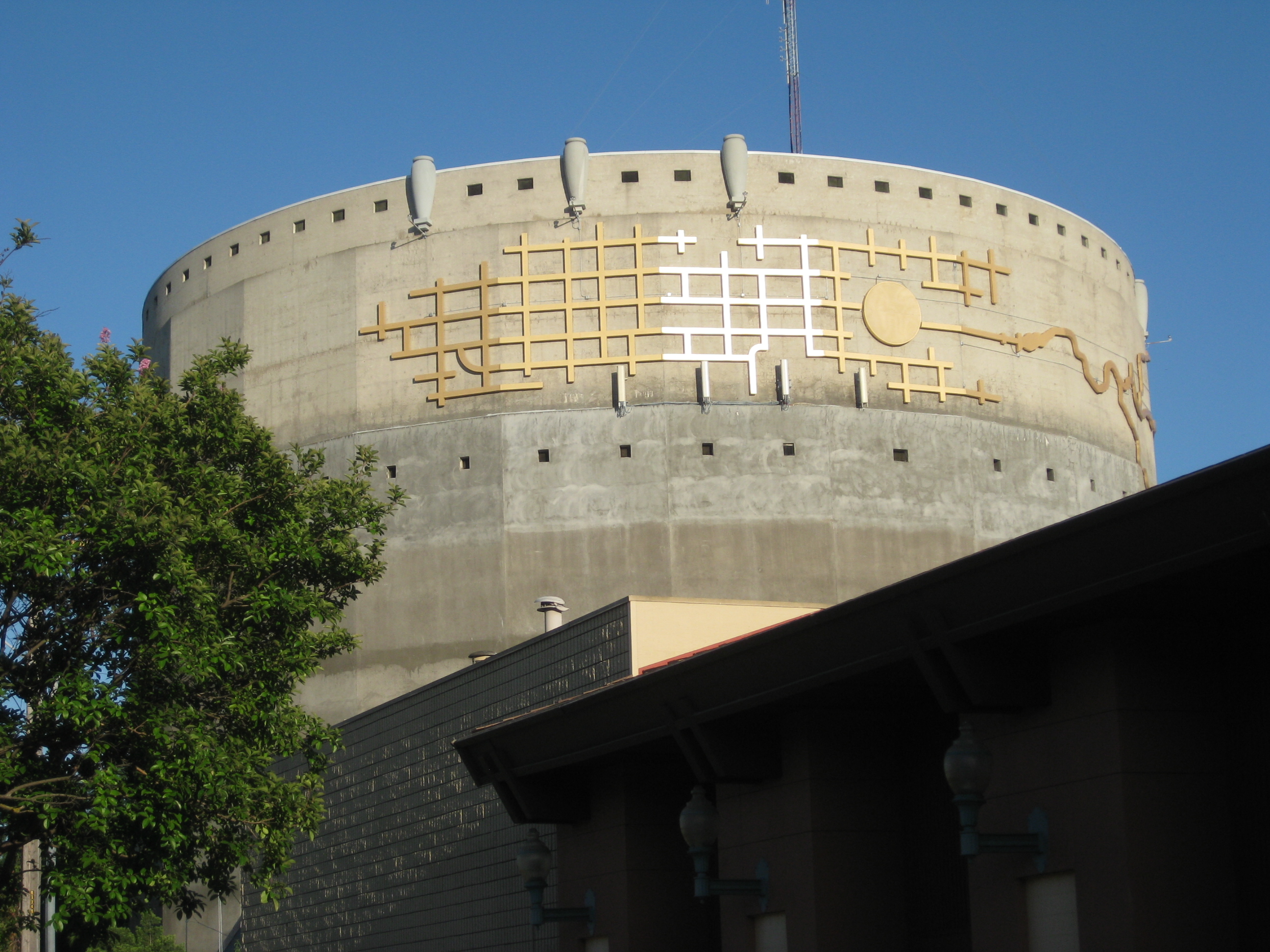 Title: The Alhambra Project
Artist: Michael Bishop (www.mbishopsculpture.com)
Date: 2003-2006
Media: LED, Aluminum, Steel, Cast Vessels
Location: 3230 J St


View Pedestrian Art, Sacramento in a larger map
(1) http://www.sacmag.com/Sacramento-Magazine/June-2006/Flashback-All-Tanked-Up/
(2) http://cityofsacramento.pastperfect-online.com/36991cgi/mweb.exe?request=image&hex=200531.JPG
(3) http://www.csuchico.edu/~mbishop/proj_current_alhambra.html"
(4) http://www.sacmag.com/Sacramento-Magazine/June-2006/Flashback-All-Tanked-Up/
(5) http://www.sacmag.com/Sacramento-Magazine/June-2006/Flashback-All-Tanked-Up/
(6) http://www.sacmag.com/Sacramento-Magazine/June-2006/Flashback-All-Tanked-Up/
(7) http://www.sacmag.com/Sacramento-Magazine/June-2006/Flashback-All-Tanked-Up/
(8) http://www.scooterdiva.com/forum/viewtopic.php?t=3827