A stand of beautiful white-barked trees forms a soft backdrop for the Gold Rush fountain in front of the Sacramento Federal Courthouse at 501 I Street. This fountain is more than just a cascade of water; cartoonish bronze figures dot the entire plaza. Anthropomorphized animals, Native Americans, Western miners, pioneers, and even Uncle Sam, are in and around the symbolic river creating an allegorical image of the Gold Rush.
One online article referred to the sculpture as a "whimsical representation of early California history" (1). Otterness' figures are whimsical but the piece as a whole is not simply whimsy. Like much of Otterness' works, Gold Rush also speaks to the darker elements of the story. The plaque nearby describes that "Otterness' intention is to prompt viewers to reevaluate certain beliefs (and myths) about American history."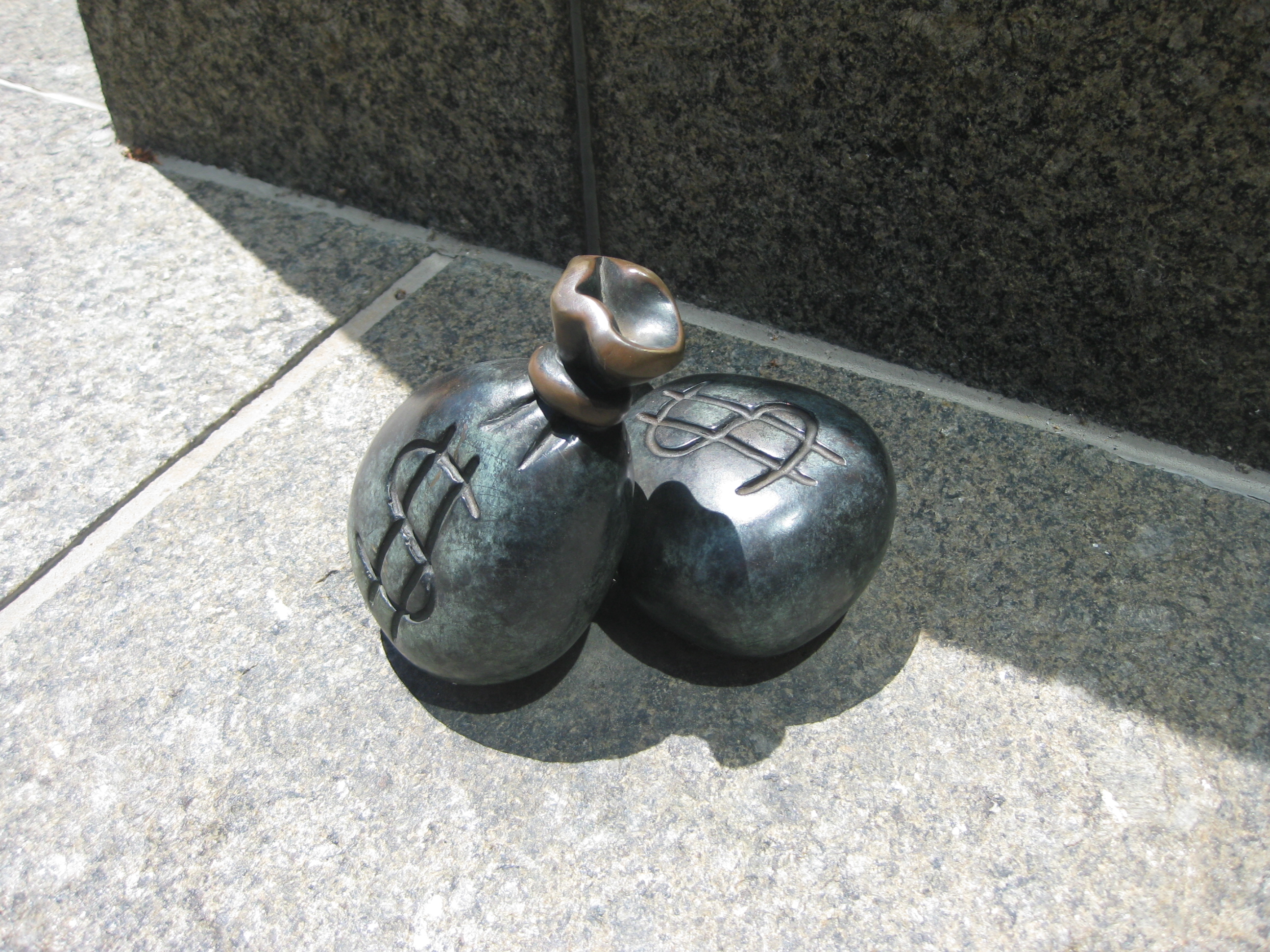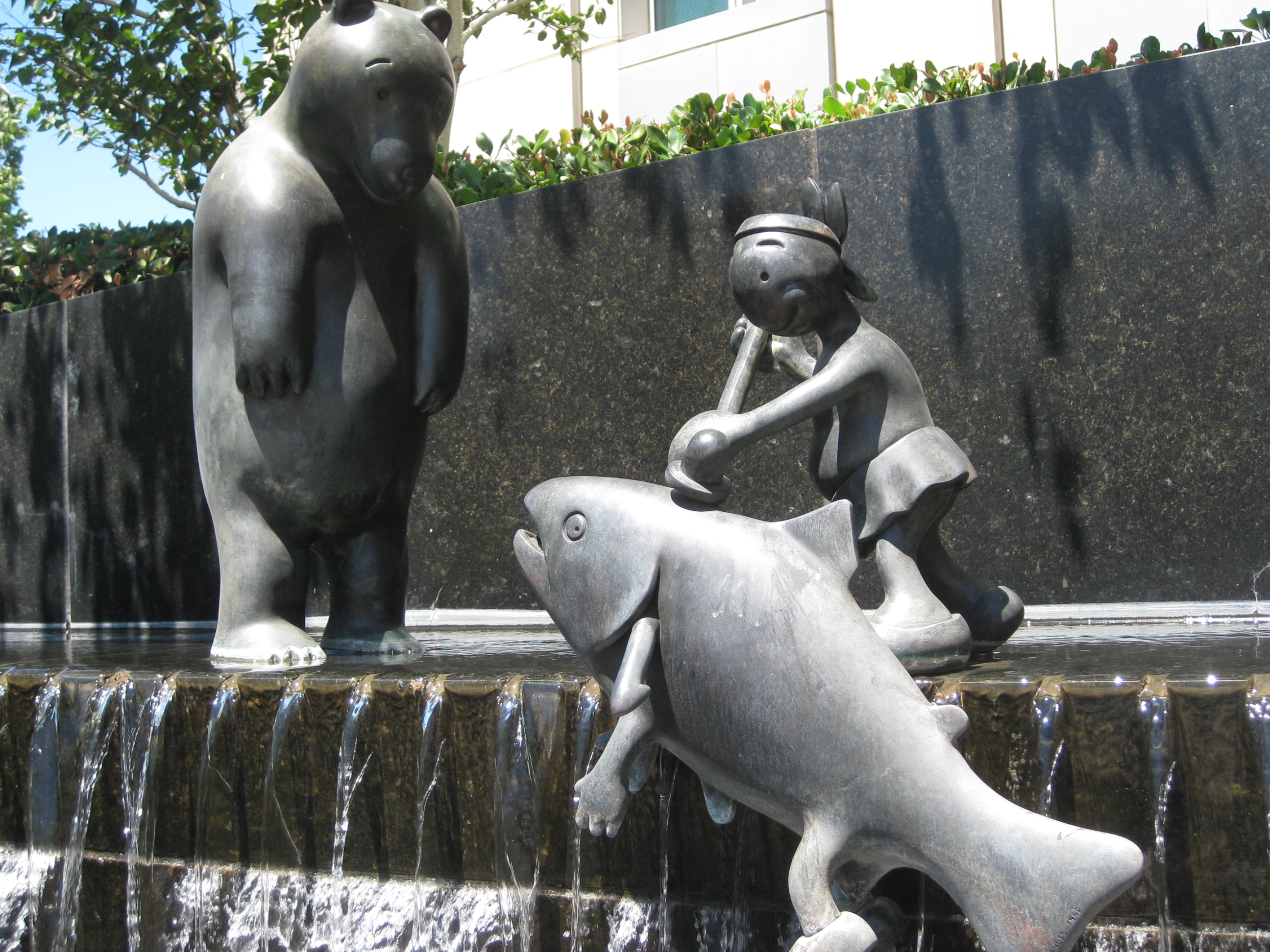 While designing a different piece for the bankruptcy court in Sacramento, Otterness, faced criticism from a judge regarding his initial design — a chess board with 6′ tall chess pieces in the form of money bags (2). The article by Pranay Gupte quotes the judge saying: "Forget it. The last thing that anyone wants to see outside a bankruptcy court is a radical economic critique." (3) Otterness worked with the feedback and his design evolved. He described this process as "a kind of surrealistic collaboration with a very conservative judge" and said the process taught him "that when it comes to public art, you need to work closely with local officials and others who understand the environment, the local culture." (4)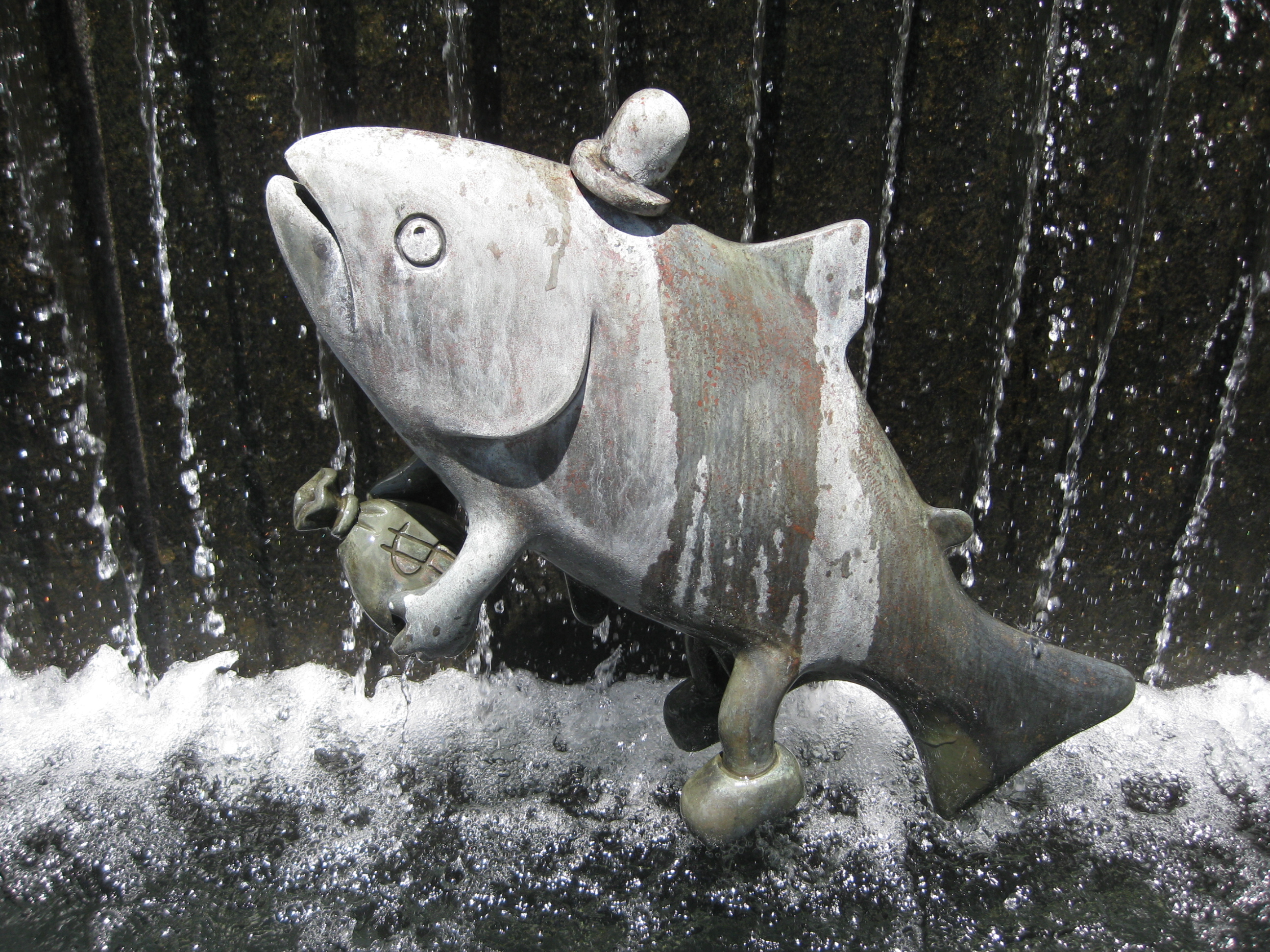 Otterness' public art work appears across the US, Canada, and worldwide (5). One of his best known works is, Life Underground, that includes more than 100 different pieces scattered throughout subway stations in NYC. Otterness described the subject of Life Underground as "the impossibility of understanding life in New York" (6).
"His style is often described as cartoonish and cheerful but tends to carry a political punch. His sculptures are filled with multiple meanings and allude to sex, class, money and race." (7)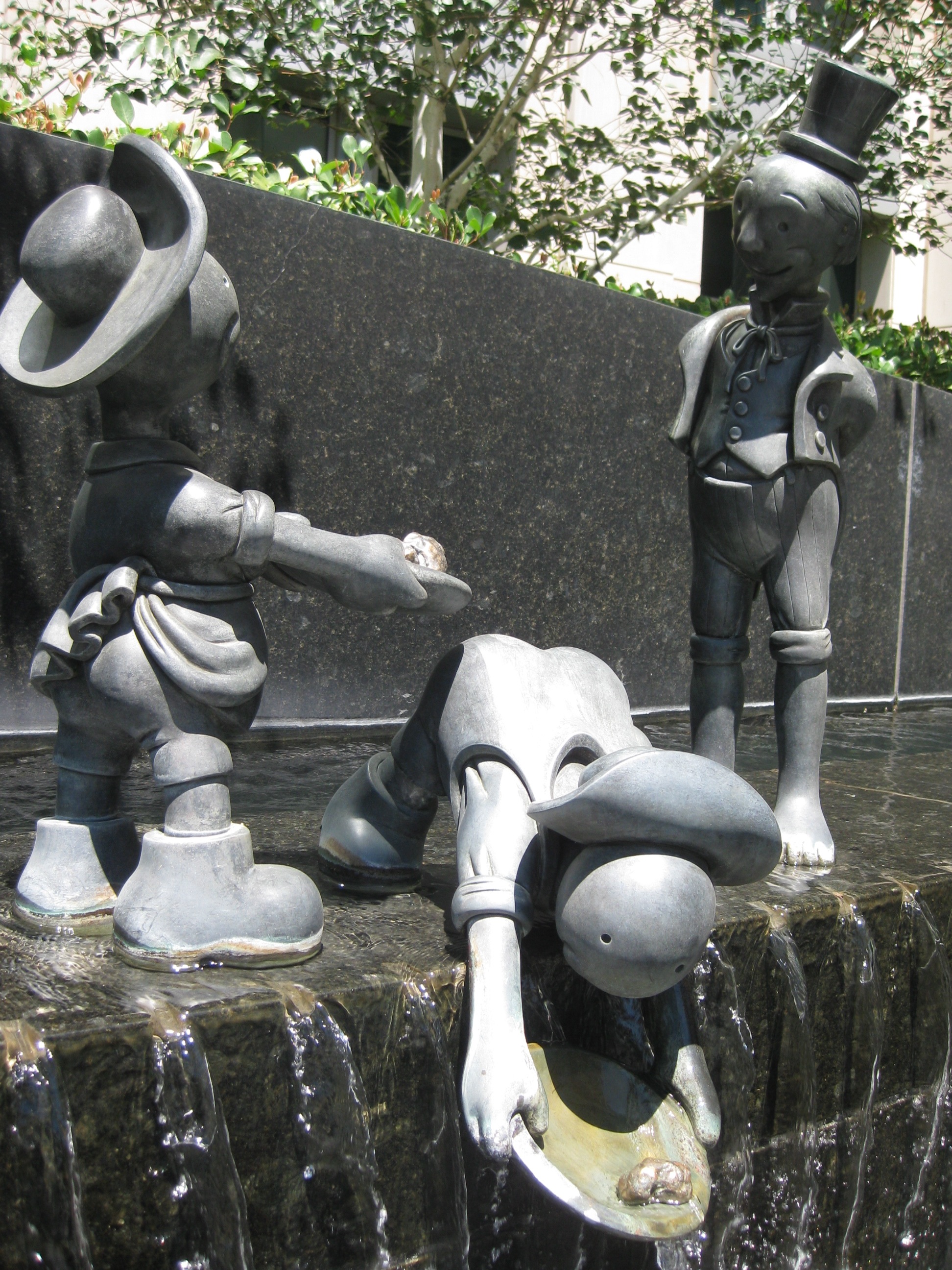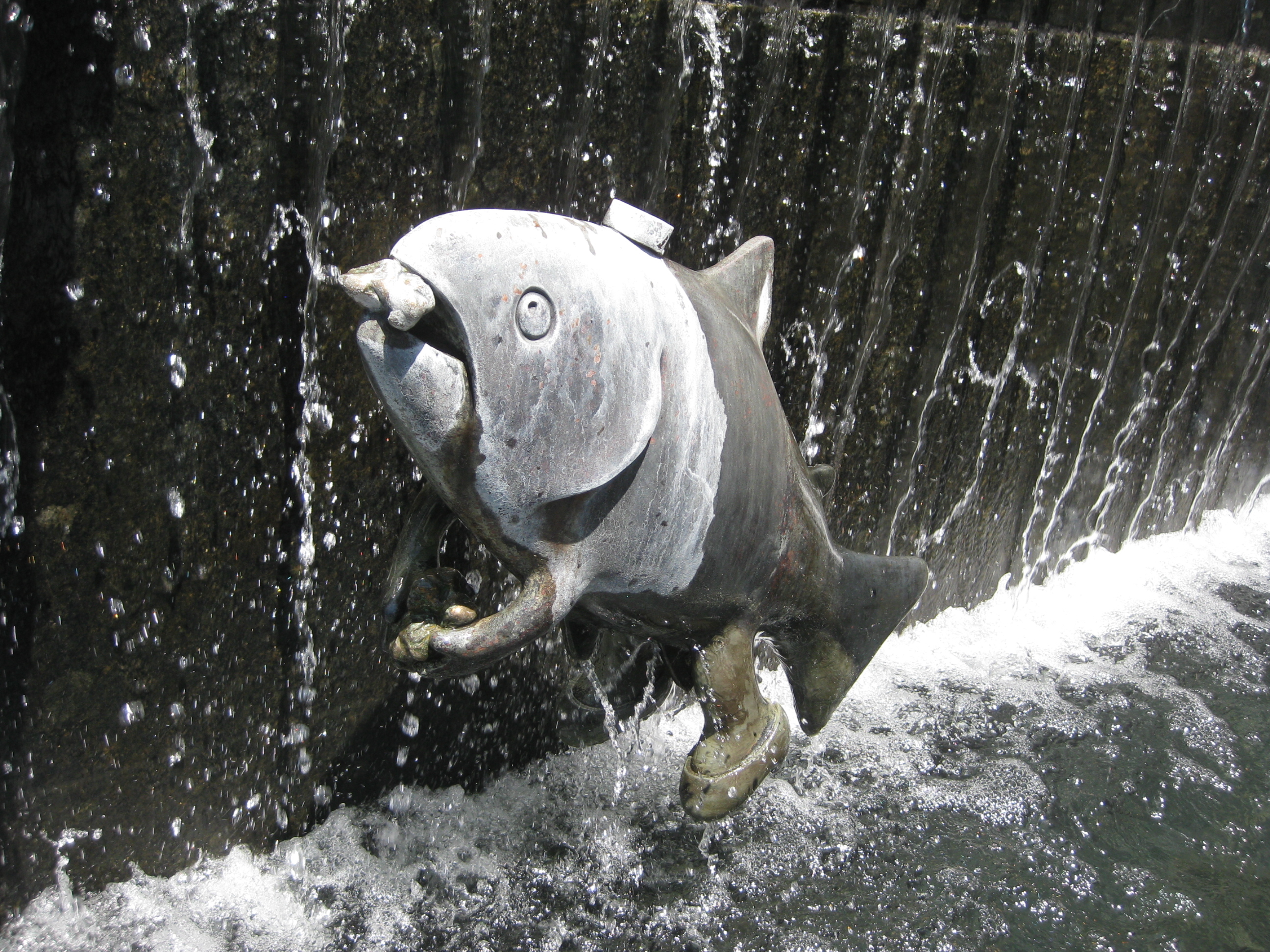 Controversy surrounds Otterness an awful act of animal cruelty that he did as art in 1977 (8). He issued an apology but it is a disturbing fact of his history.
I like this quote from Otterness about how he wants us engage with his work:
My work is really social commentary….I want people to touch these sculptures, to discuss them, to argue about them, to find in them whatever meaning they might draw from my work. Not everything in my work is explainable, of course. But that's good, too. It's sometimes good to leave people somewhat puzzled. The important thing is that they touch my sculptures, and talk about them.(9)
The plauqe reads:
A native of Wichita, Kansas, sculptor Tom Otterness is known for creating bronze and cast stone scupltures. Most of his work utilizes allegorical human and anthropomorphic animal figures. Otterness includes humorous elements in much of his work, even when dealing with serious social or political subjects. For the Sacramento Courthouse, artist Otterness created an assortment of knee-high characters reminiscent of California's early history – animals and fish, native Americans and pioneers. He choose to position his whimsical yet enigmatic figures along the plaza's fountain, which serves as a reminder of the significant role the Sacramento River and other waterways have played in the history of the state. Using the Gold Rush as his theme, Otterness worked both with and against the artistic traditions of the American West, especially the sculptor Frederick Remington. With the familiar cast of characters, Otterness' intention is to prompt viewers to reevaluate certain beliefs (and myths) about American history.
Title: Gold Rush
Artist: Tom Otterness (www.tomostudio.com)
Date: 1999
Media: Cast Bronze Sculptures
Location: Sacramento Federal Courthouse, 501 I Street


View Pedestrian Art, Sacramento in a larger map
(1) www.examiner.com/culture-events-in-sacramento/art-is-all-around-us-walking-tour
(2) http://www.pranaygupte.com/article.php?index=285)
(3) http://www.pranaygupte.com/article.php?index=285
(4) (http://www.pranaygupte.com/article.php?index=285)
(5) http://www.tomostudio.com/exhibitions_publicart_landing.html
(6) http://en.wikipedia.org/wiki/Life_Underground
(7) http://en.wikipedia.org/wiki/Tom_Otterness
(8) http://en.wikipedia.org/wiki/Tom_Otterness#Controversy
(9) http://www.pranaygupte.com/article.php?index=285