Where are we going?
What have we wrought?
How are we loving?
What have we thought?
These questions, carved in stone and almost hidden under a cascade of water, are posed by Stephen Kaltenbach on his fountain sculpture at the Sacramento Convention Center called, Time to Cast Away Stones. In my image below, you can just begin to make out the carved letters underneath the flow of water, but you can find some wonderful photos of the fountain that reveal the carved letters of the questions quite clearly on Jenny Arnez's blog post.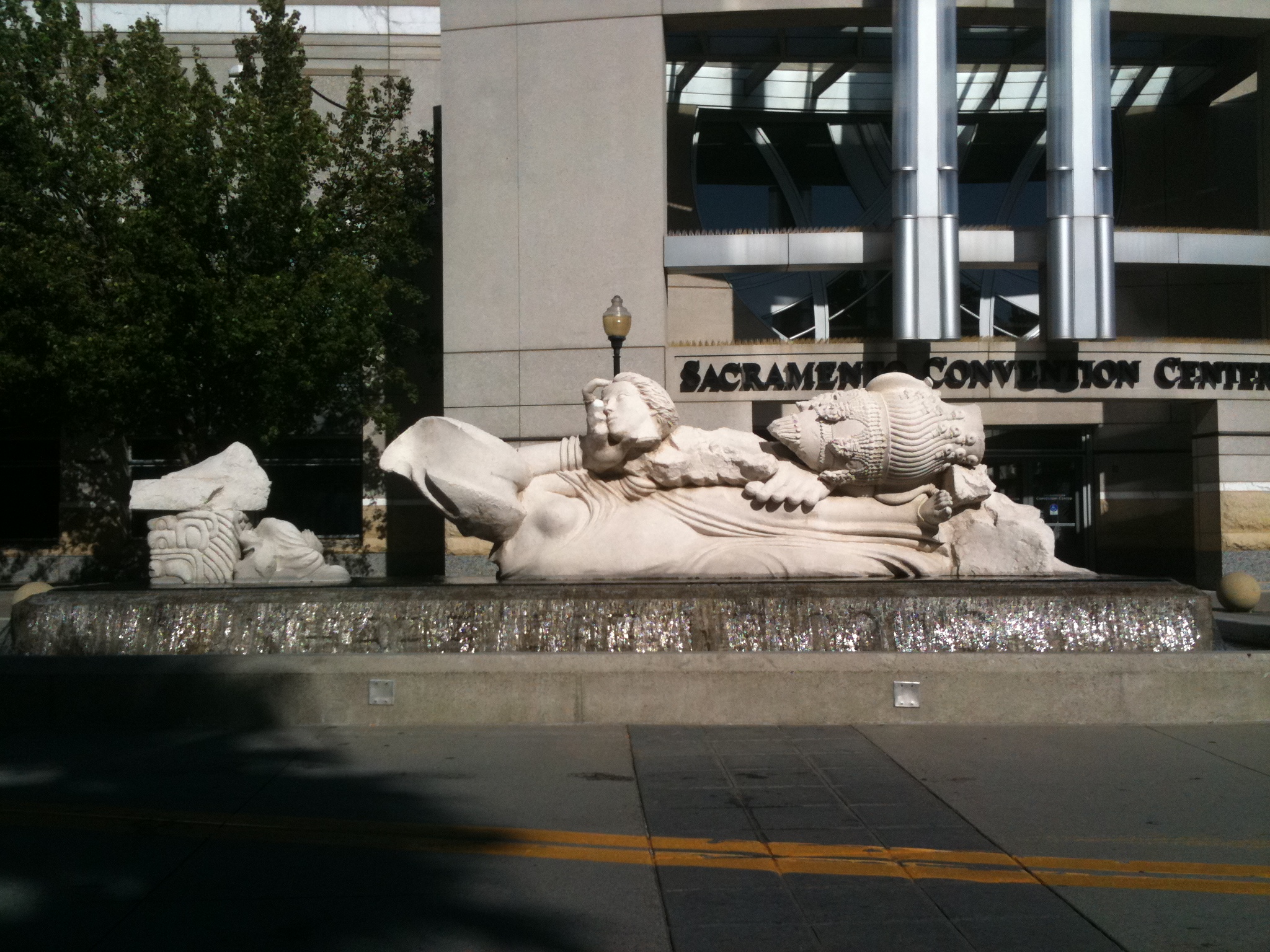 Time to Cast Away Stones consists of two rectangular sculptured stone fountains, separated by a walkway and running lengthwise along the center divider of 13th Street at the entrance to the Sacramento Convention Center. The sculptures evoke Greek or Roman ruins and you can find many interesting images within the seeming jumble of stone.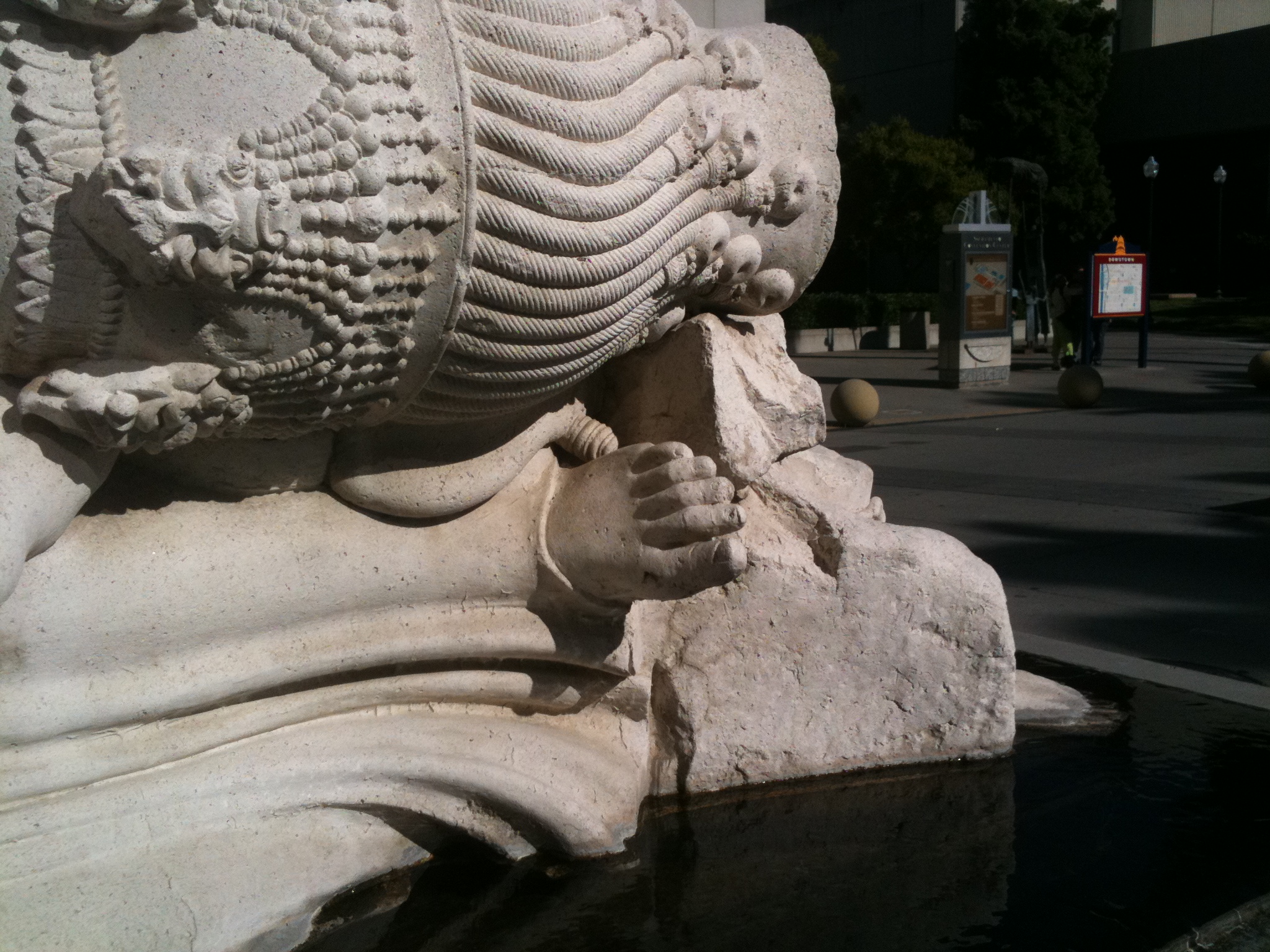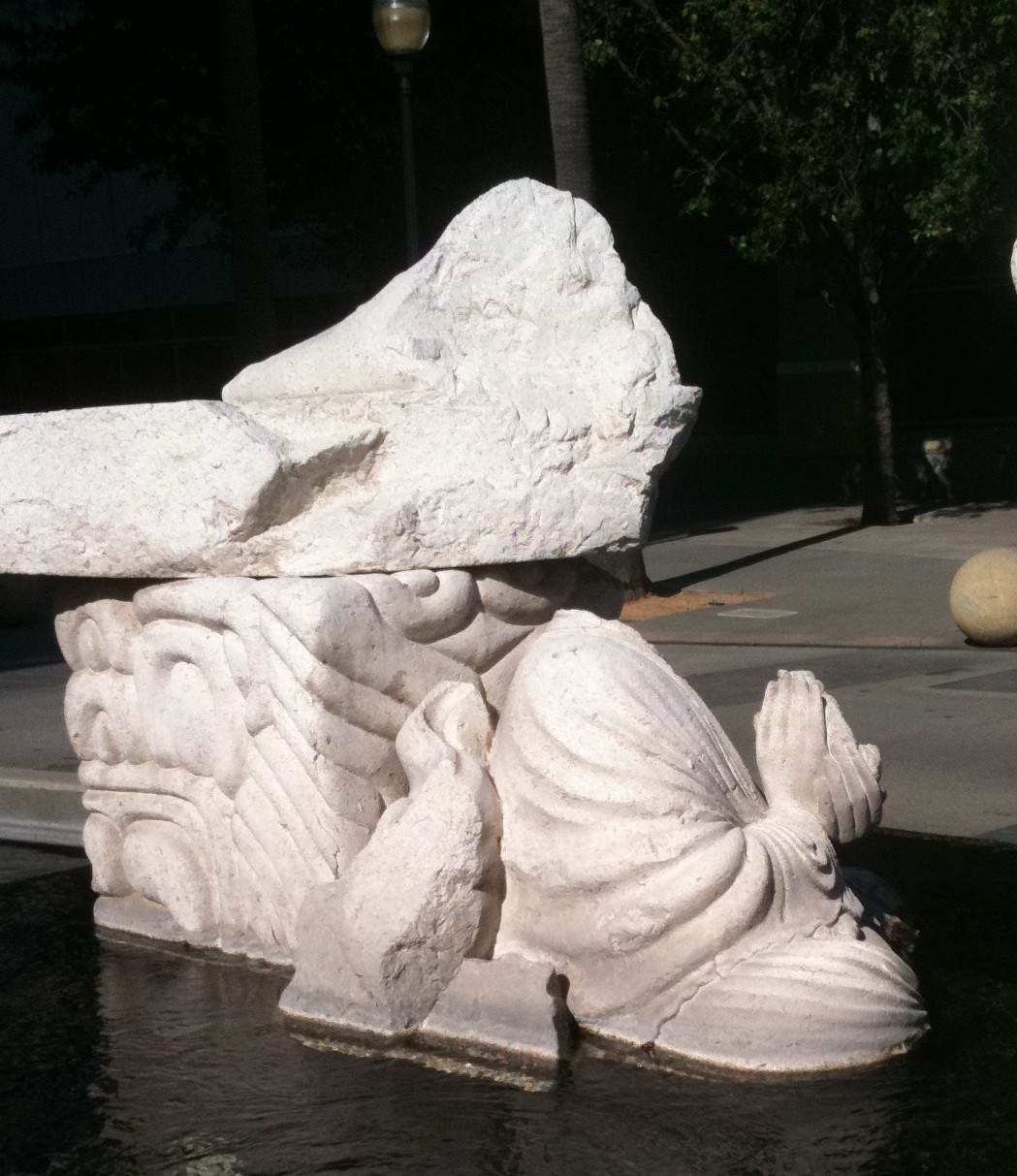 Kaltenbach graduated from UCD, lived in New York where he was part of the avant-garde scene there in the late 1960s, and then moved to Sacramento to teach art at CSUS from 1970-2005 (1).
In an article titled, "Altered Ego: Sarah Lehrer-Graiwer on Stephen Kaltenbach," the author describes some of the most interesting aspects of Kaltenbach's uniqueness as an artist:
Kaltenbach followed what he called a protocol of opposites: Whenever he identified a structurally embedded social pattern of behavior among his artist peers, he would do the opposite….Against the idea that artists should exhibit only in galleries and museums, he committed "Street Works" in public, often unannounced, using graffiti stamps, stencils, sidewalk plaques, and disguises. (2)
Going against the grain of the art scene of keeping artistic ideas to one's self, Kaltenbach intentionally sought to keep his creativity open and looked for opportunities to share artistic possibility with others (3). He called this spreading of influence Casual Art, and Teach Art was one element of the Casual Art principle that his role at CSUS gave him a platform to embody (4).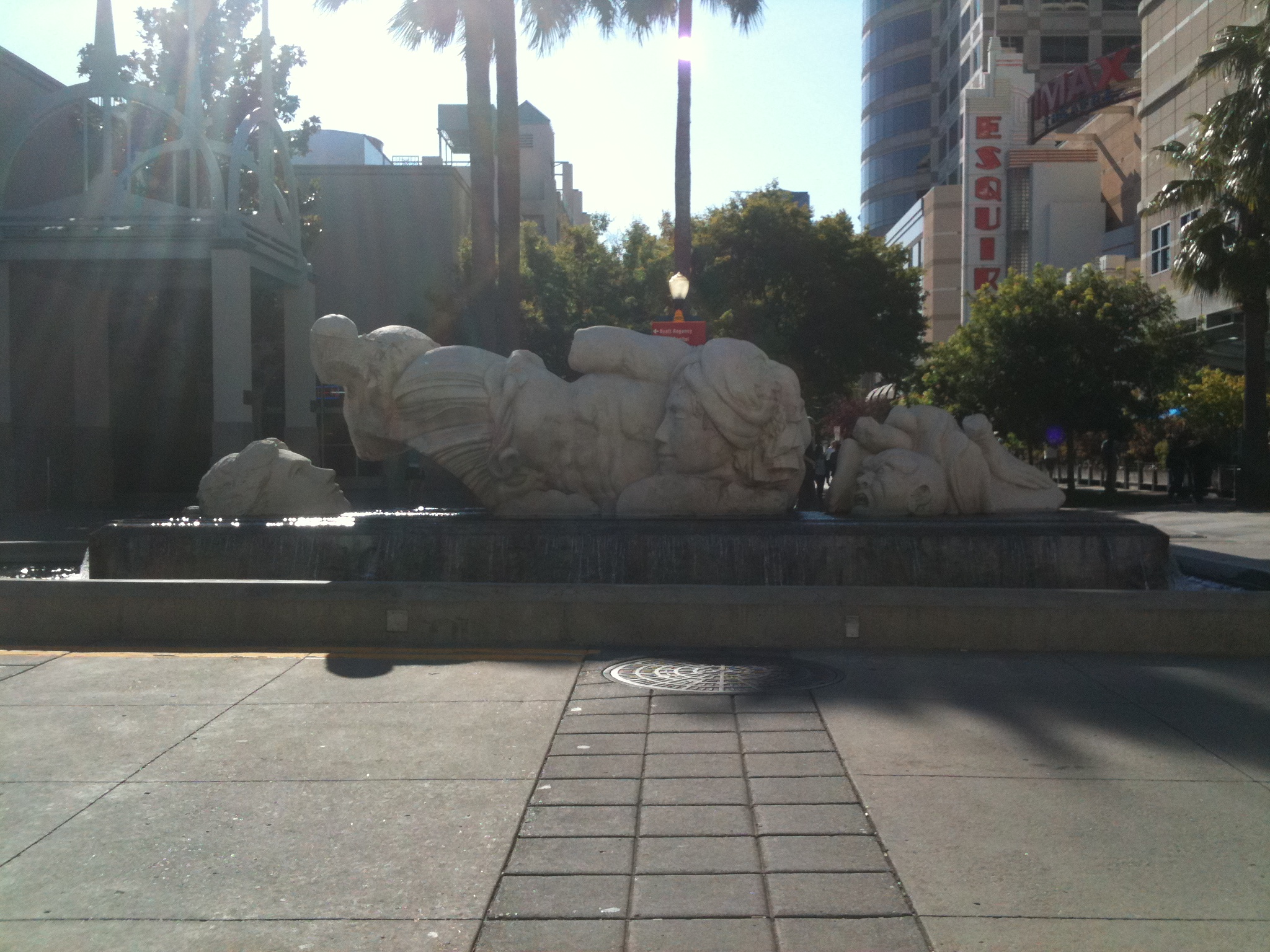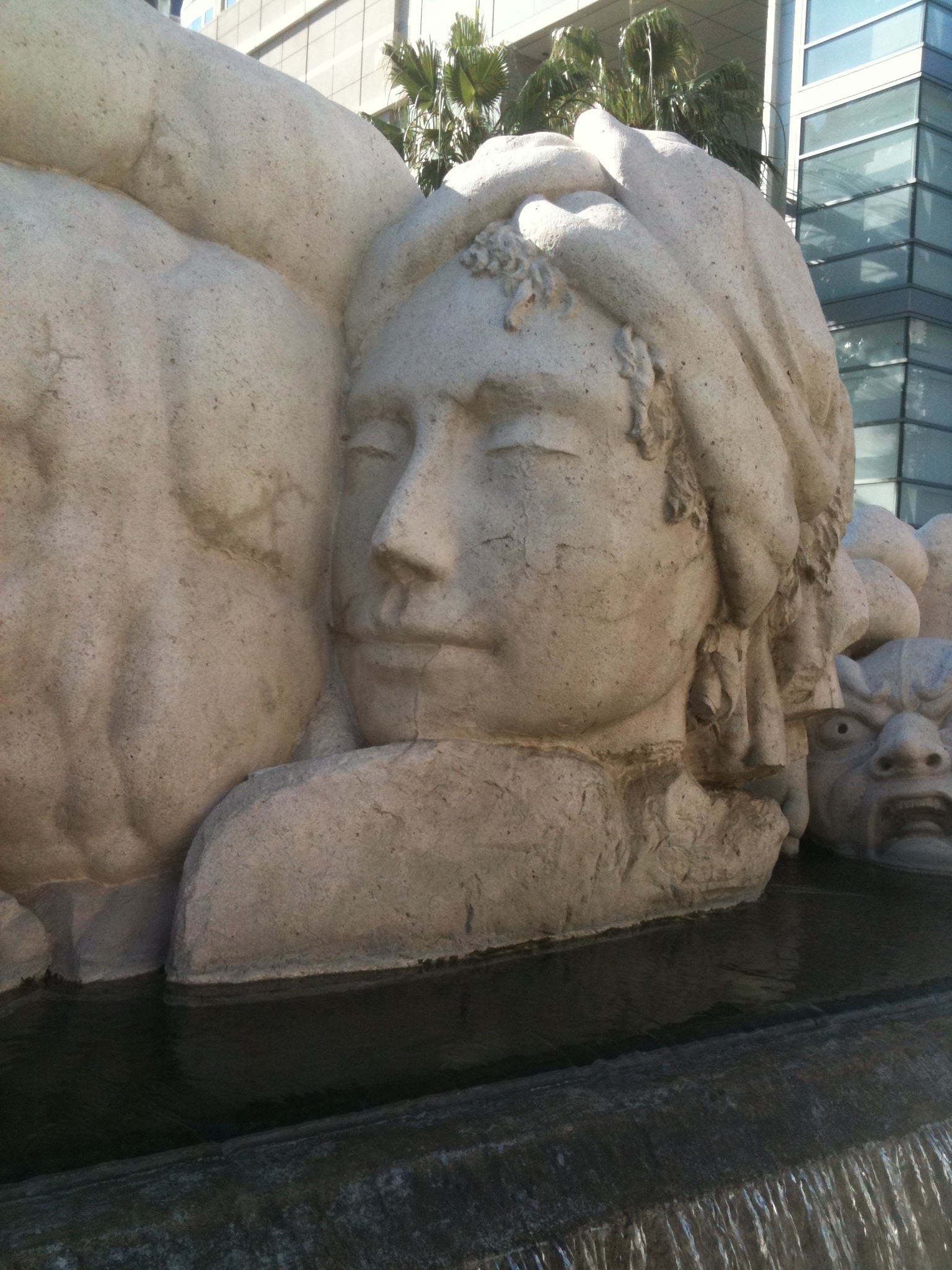 From November 1968 and December 1969, Kaltenbach anonymously placed twelve full-page ads, which he referred to as 'micro-manifestos' in Artforum. The ads consisted of mostly white-space with a few words in plain type-face text centered on the page. You can see an example of one called, "Become a legend," in the lower right corner of this image. The twelve micro-manifestos (5):
ART WORKS. (Nov 1968)
JOHNNY APPLESEED. (Dec 1968)
ART. (Jan 1969)
Tell a lie. (Feb 1969)
Start a rumor. (March 1969)
Perpetrate a hoax. (April 1969)
Build a reputation. (May 1969)
Become a legend. (Summer 1969)
Teach Art. (Sept 1969)
Smoke. (Oct 1969)
Trip. (Nov 1969)
You are me. (Dec 1969)
Kaltenbach called these "a passing on of possibilities" (6) and, in an article titled, "The Enigma of Stephen Kaltenbach, Almost," Elaine O'Brien writes:
"These ads are word-works that specifically targeted the Artforum audience and effectively participated in the conceptualist project to multiply doubt, but they also evidence Kaltenbach's heightening ironic self-objectification." (7)
Since his move from New York, his public pieces became more populist in a move that could draw criticism from the conceptual art world (8). Even as he created more realist and decorative pieces, his conceptual work continued, and as this quote describes, the strangeness of his living in both the populist and conceptual worlds is just another element of his artistic uniqueness:
"Only a playful ease with unease can yield pleasure and possibly reveal the complexity of an artist whose work is elusive on principle" (9).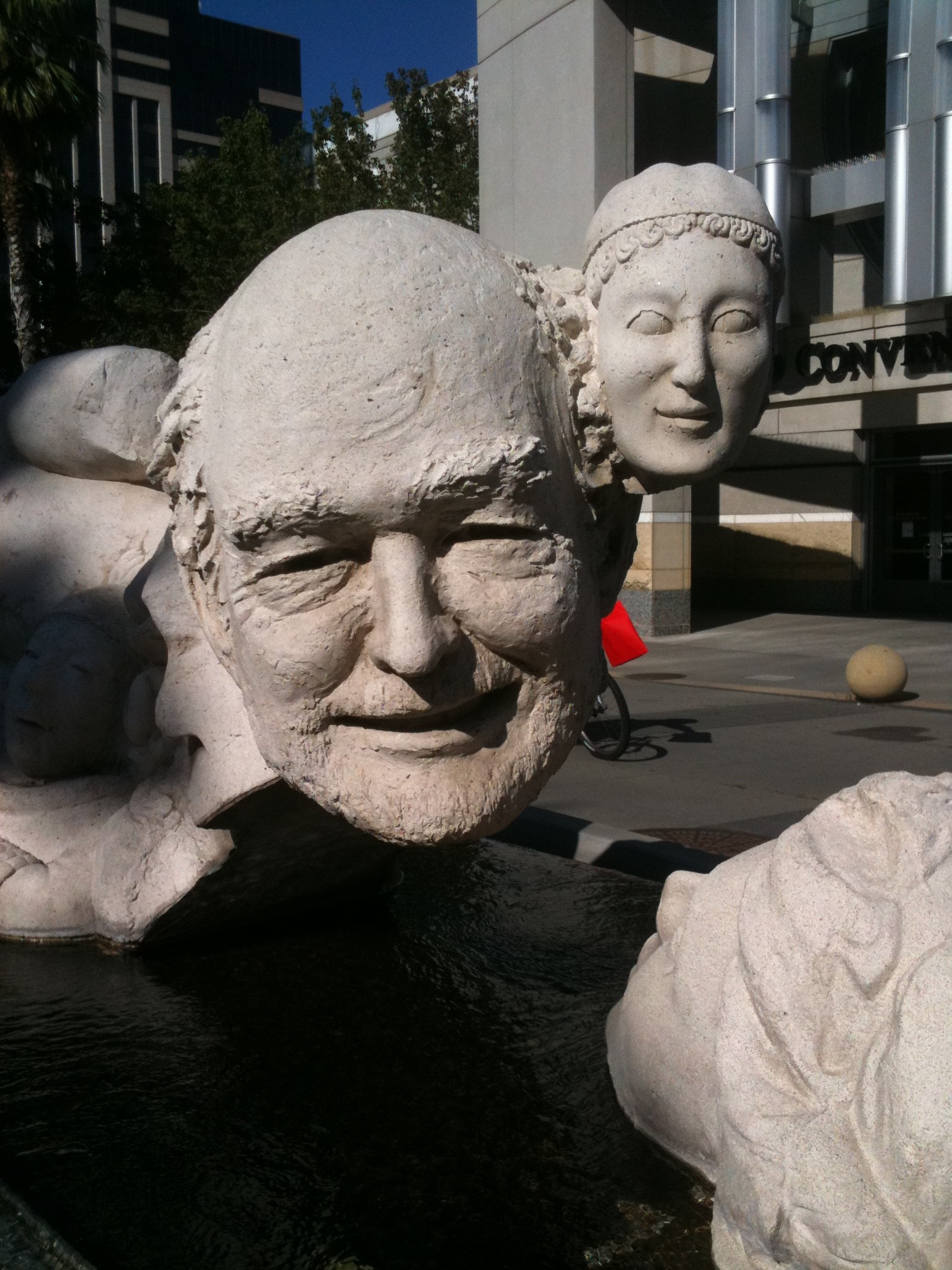 Three other public art pieces by Kaltenbach can be found in Sacramento (10):
The Crocker Art Museum's permanent collection is home to an extraordinary painting by Kaltenbach. "Portrait of My Father" is a photo-realistic painting with a scrim effect that brings an ethereal quality that "gives a little barrier between you and the subject, and the chromatic spectrum makes you think about things that are unseen but there" (11).
The Crocker describes the work as a "testament to life, love, and the loss confronting us all." (12). In the seven years he worked with this painting, he experienced personal transformation through grief of his father's death and dark psychedelic trips to finding faith and becoming a Christian (13).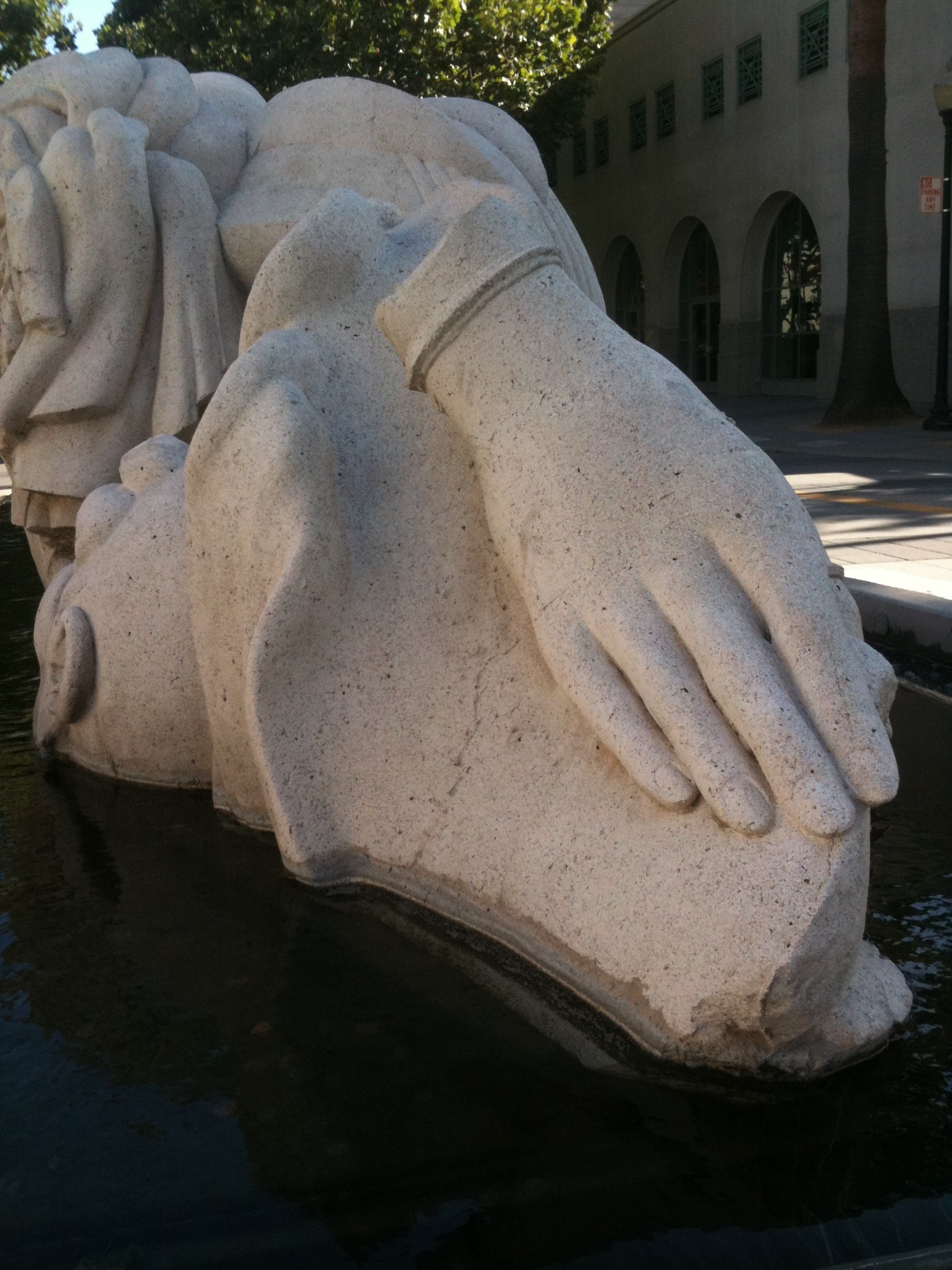 On her blog, Jenny Arnez describes how the title of this piece reminds her of a biblical quote and the affect it had on her:
"Time to Castaway Stones" brings to mind Ecclesiastes 3:5. The New King James version says, "A time to cast away stones, and a time to gather stones together; a time to embrace, and a time to refrain from embracing." The sculpture causes me to think and question not only our society's actions but my own daily choices as well.(14)
Although I'm not familiar with the biblical reference, I had a similar experience in terms of reflecting on the four questions Kaltenbach poses for us:
Where are we going?
What have we wrought?
How are we loving?
What have we thought?
Title: Time to Cast Away Stones
Artist: Stephen J. Kaltenbach (www.stephenkaltenbach.com)
Date: 1999
Media: Cast Cement
Location: Sacramento Convention Center, 13th & K


View Pedestrian Art, Sacramento in a larger map
(1) http://www.stephenkaltenbach.com/info/resume.html
(2) http://www.thefreelibrary.com/Altered+Ego%3A+Sarah+Lehrer-Graiwer+on+Stephen+Kaltenbach.-a0236980129
(3) http://www.thefreelibrary.com/Altered+Ego%3A+Sarah+Lehrer-Graiwer+on+Stephen+Kaltenbach.-a0236980129
(4) http://www.thefreelibrary.com/Altered+Ego%3A+Sarah+Lehrer-Graiwer+on+Stephen+Kaltenbach.-a0236980129
(5) http://stevenleiberbasement.com/archive.php?list=extra_art.txt&mfltr=extra_art.txt&afltr=&qfltr=&sort=&offset=220
(6) https://www.crockerartmuseum.org/exhibitions-collections/collections/asian-art/asian-art?page=shop.product_details&flypage=flypage_cust.tpl&product_id=695&category_id=51
(7) http://angelfloresjr.multiply.com/journal/item/7109/The_Enigma_of_Stephen_Kaltenbach_Almost?&show_interstitial=1&u=%2Fjournal%2Fitem
(8) http://www.thefreelibrary.com/Altered+Ego%3A+Sarah+Lehrer-Graiwer+on+Stephen+Kaltenbach.-a0236980129
(9) http://www.midtownmonthly.net/art/bad-ideas/
(10) http://www.sacbee.com/2010/11/02/3150600/powerful-portrait-at-sacramentos.html
(11) http://www.sacbee.com/2010/11/02/3150600/powerful-portrait-at-sacramentos.html
(12) https://www.crockerartmuseum.org/exhibitions-collections/collections/asian-art/asian-art?page=shop.product_details&flypage=flypage_cust.tpl&product_id=695&category_id=51
(13) http://www.sacbee.com/2010/11/02/3150600/powerful-portrait-at-sacramentos.html
(14) (http://www.jennyarnez.com/art-2/time-to-castaway-stones