Update Spring 2012: Two of the sculptures were knocked over, apparantly by a car accident, and they have since been removed.
This metal sculpture by Kristen Hoard sits in the roundabout at 26th & S. There are four figures marking each direction of the roundabout.
I can't think of another roundabout in town that boasts art. Apparently Hoard went through an involved two-year process with the City of Sacramento and the Homeowners Association for this piece:
The public project that Kristen has named "Community" has involved submitting proposals and plans, obtaining engineering approval, and coordinating with other artists and assistants who have also donated their skills to cutting, grinding, powder coating, and eventually erecting the large metal pieces stabilized in concrete in a local traffic circle roundabout. Even the metal has been donated (Blue Collar Supply) since this is one of the few Kristen Hoard pieces that is not constructed of recycled metal (1)

The figures are powder coated a different color on each side, making eight colors total as a symbol of diversity in the Sacramento area (2). I bet it is particularly stunning in the spring when the flowers are in bloom.
Hoard works most often with recycled metal from scrap yards (3). She started working with metal in 1999 in the Bay Area and came to Sacramento about 7 years ago when she bought a house here and transformed the garage into her metal working studio.
My journey into artistry has been in parallel with my spiritual journey. And, I believe these two things are inseparably linked in numerous ways. The feeling I get from working with metal and all the processes involved is all consuming. There is great sensuality in working within this genre, because visually, heat brings out differing colors, shapes and textures that transform simple object into art (4).
You can see more of Hoard's work on her website, www.metalphoria.com.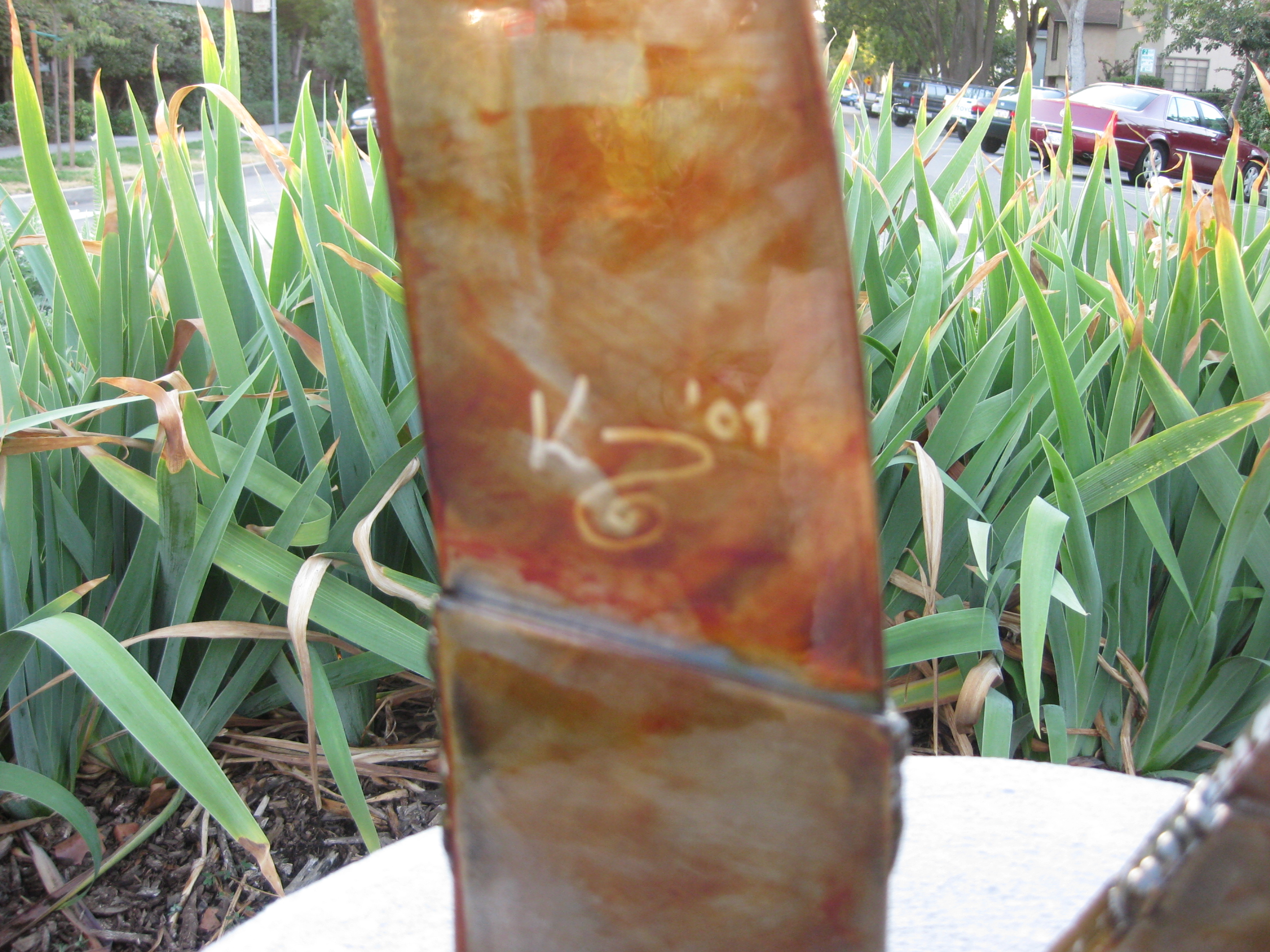 Title: Community
Artist: Kristen Hoard
Date: 2009
Media: Metal
Location: 26th & S

View Pedestrian Art, Sacramento in a larger map
(1) http://www.examiner.com/festivals-in-sacramento/festival-artists-november-featuring-kristen-hoard
(2) http://www.examiner.com/festivals-in-sacramento/festival-artists-november-featuring-kristen-hoard
(3) http://www.metalphoria.com/khmp_SC.aspx?C=5&SCL=39
(4) a href="http://www.accesssacramento.org/about_us/impact_stories.html