Update August 2014: Through the persistence and effort of community members and SMAC, Sojourner has been restored and is now safely exhibited on the main floor (inside) the Crocker Art Museum.
Update 1/15/13: I am dismayed to report that the Sojourner Truth sculpture was vandalized on 1/6/13. The sculpture was pushed off of the pedestal and broke in pieces on the ground. It is still unclear whether the sculpture can be repaired but Sacramento Metropolitan Arts Commission and others are seeking every avenue to restore this wonderful piece. I've included a photo of the broken sculpture at the bottom of this post.
Nearly 7′ tall standing with dignity and a flare of her skirt, this unembellished but powerful sculpture is a testament to the woman who inspired her (1).
Sojourner Truth (1797-1883) was a former slave who escaped to freedom and became an activist contributing passionately in the fight for abolition and women's rights (2). Among many other remarkable events of her life she was the first black person to win a court case against a white man (3), and she once bared her breasts in a meeting room to silence accusations that she was a man (accusations likely stemming from her nearly 6′ stature and non-demure manner) (4).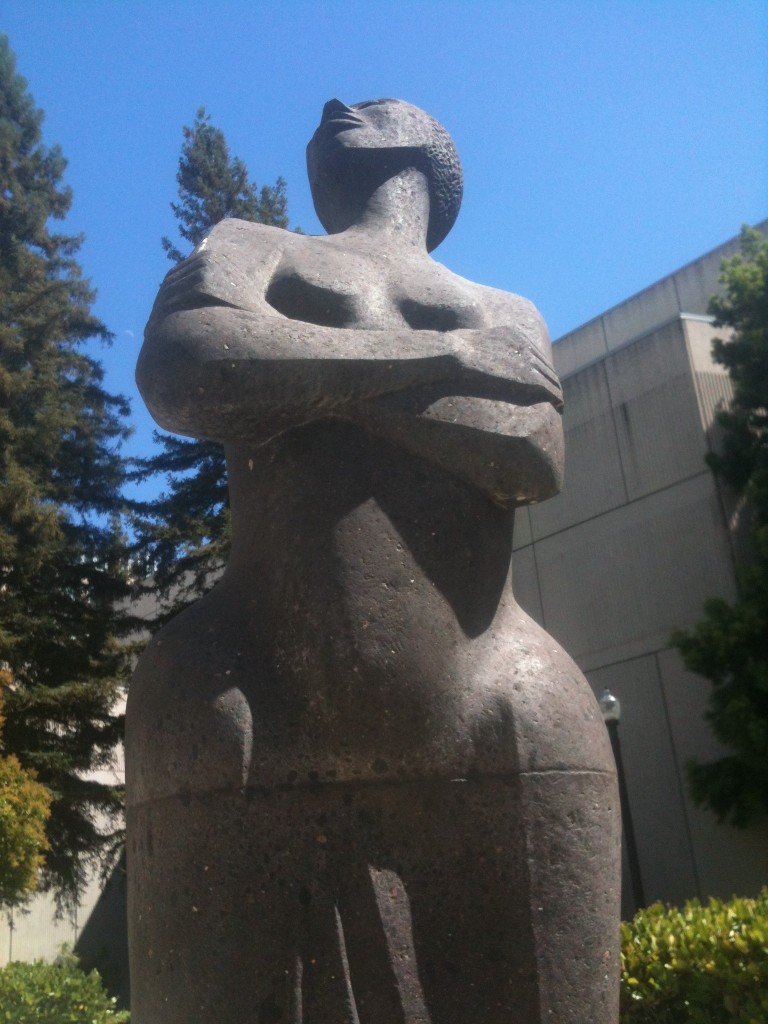 The Artist:
Through her artwork, Elizabeth Catlett (1919-2012) also spent her life fighting injustices against African Americans and women (5). Targeted during the McCarthy era for her politics, she moved to Mexico and for a period of time was denied re-entry into the U.S. (despite being a citizen) (6).
In a clip of the video called, Sculpting the Truth, she says, "I admire things I think are true. I admire things I think are just." The social implications of her work was always the primary focus of her art:
"I learned how you use your art for the service of people, struggling people, to whom only realism is meaningful." (7)
"I have always wanted my art to service my people — to reflect us, to relate to us, to stimulate us, to make us aware of our potential." (8)
Some of her most popular works include: Malcolm Speaks For Us, The Sharecropper, Negro Es Bello, Survivor, Dancing, Two Generations, Black is Beautiful, Latch Key Child, Madonna, The Singing Head, Recycling Nude, and The Seated Woman (9).
At age 95, she completed one of her last sculptures, a life-size bronze sculpture of gospel legend, Mahalia Jackson (10) [Side note: Sacramento is hosting its first production of the highly acclaimed show, Mahalia: A Gospel Musical, through 9/23].
I think Sojourner would be proud to have been sculpted by Catlett, her sister in truth and justice.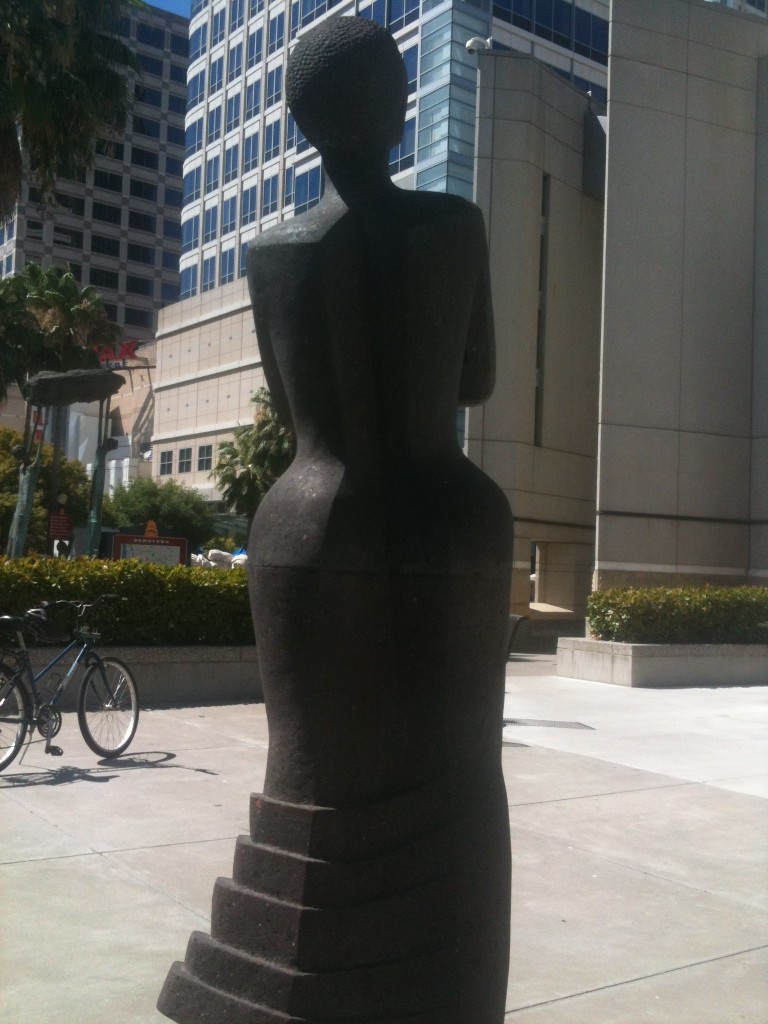 Below is the photo of the recently vandalized sculpture (1/15/13).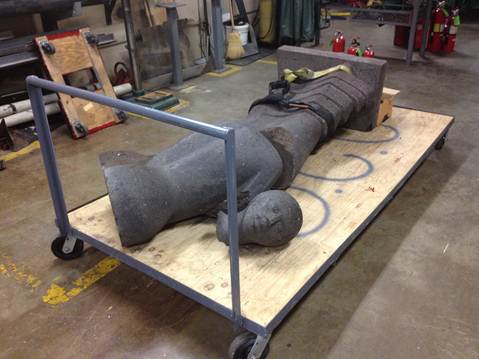 Title: Sojourner
Artist: Elizabeth Catlett
Date: 1999
Media: Mexican Limestone
Location: 13th & K


View Pedestrian Art, Sacramento in a larger map
(1) http://cityofsacramento.pastperfect-online.com/36991cgi/mweb.exe?request=record;id=E07395A9-92EE-4E3F-8575-108427269244;type=101
(2) http://en.wikipedia.org/wiki/Sojourner_Truth#cite_note-Sojourner_TruthInstitute-3
(3) http://ehistory.osu.edu/uscw/features/people/bio.cfm?PID=79
(4) http://www.sojournertruth.org/History/Biography/BC.htm
(5) http://my.saic.edu/news/89312/In-Memory-In-Memory-Elizabeth-Catlett.htm
(6) http://elizabethcatlett.net
(7) http://www.nytimes.com/2012/04/04/arts/design/elizabeth-catlett-sculptor-with-eye-on-social-issues-dies-at-96.html
(8) http://www.nytimes.com/2012/04/04/arts/design/elizabeth-catlett-sculptor-with-eye-on-social-issues-dies-at-96.html
(9) http://jassed.com/visual-artists/contemporary-art/140-elizabeth-catlett-celebrates-95the-birthday
(10) http://jassed.com/visual-artists/contemporary-art/140-elizabeth-catlett-celebrates-95the-birthday