Thoughts of Van Gough drift through my imagination whenever I see this mural along 21st Street in the alley between J & K. Yellows, blues, purples, oranges and reds pop out of the black backdrop. Brush strokes in swirls, lines and dashes form a mountain lake sunset landscape, and, along the bottom edge, silhouetted figures do everyday things like kiss, take photos, and drink beer. Turns out these figures were inspired by the street people that the artist, Lily Moon, got to know during the three weeks she painted the mural (1).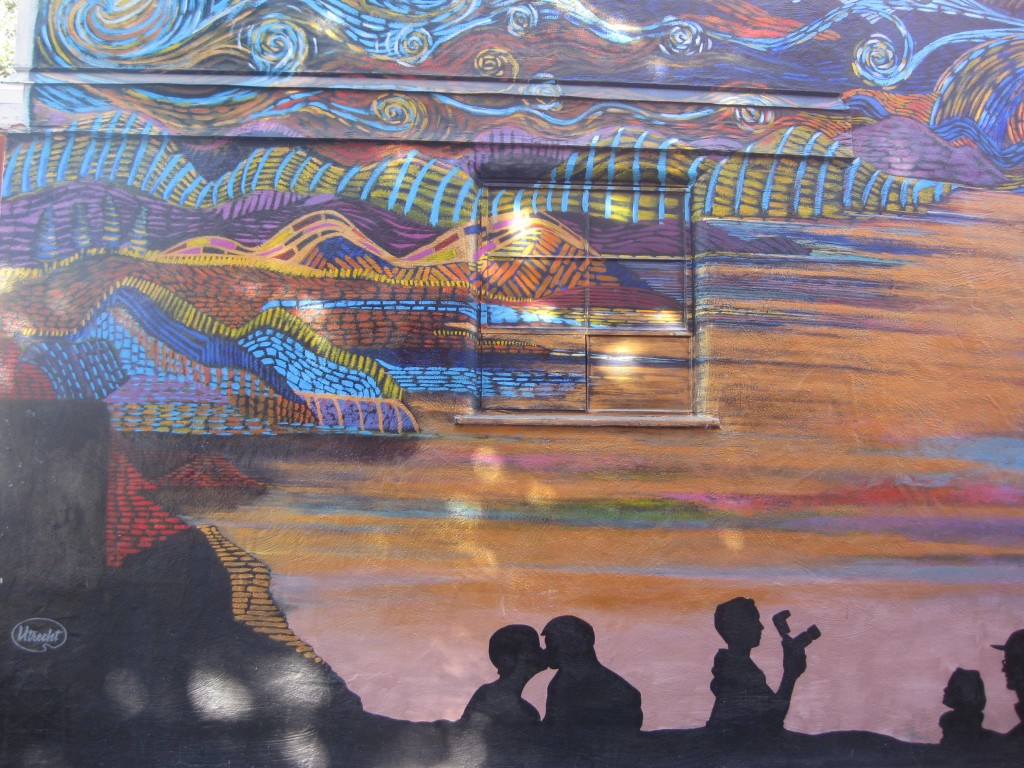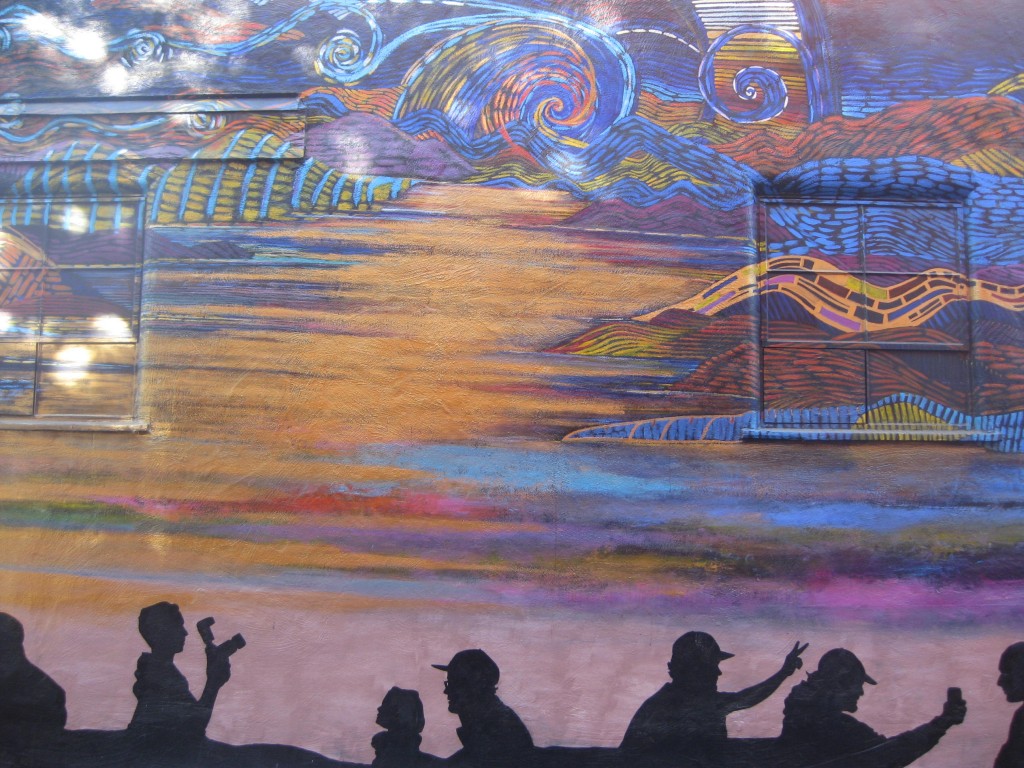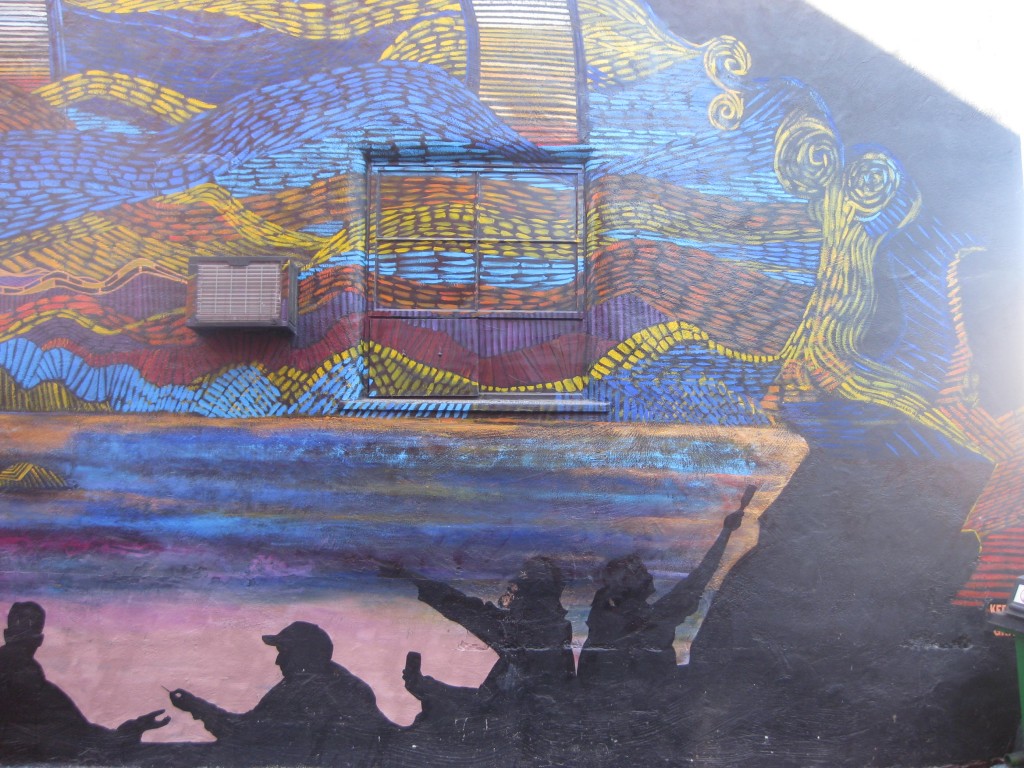 The Art:
Quoted in a Sac State article, Moon said:
"It was three weeks of hell…. We were up there … painting in the rain. We had this crowd of homeless people looking up at us and talking to us and we really got to know the culture around us. Really if I think about street art, that was it right there….. Every little painstaking minute was worth it because of the people that I got to meet." (2)
Prior to Moon's mural, between March and November of 2011, three different murals came and went on this wall (3):
1. Running mural possibly by Shaun Burner, prior to March 2011
2. Mural by Raul Mejia, prior to Oct 2011
3. Hanami Salon mural by Chris, prior to Nov 2011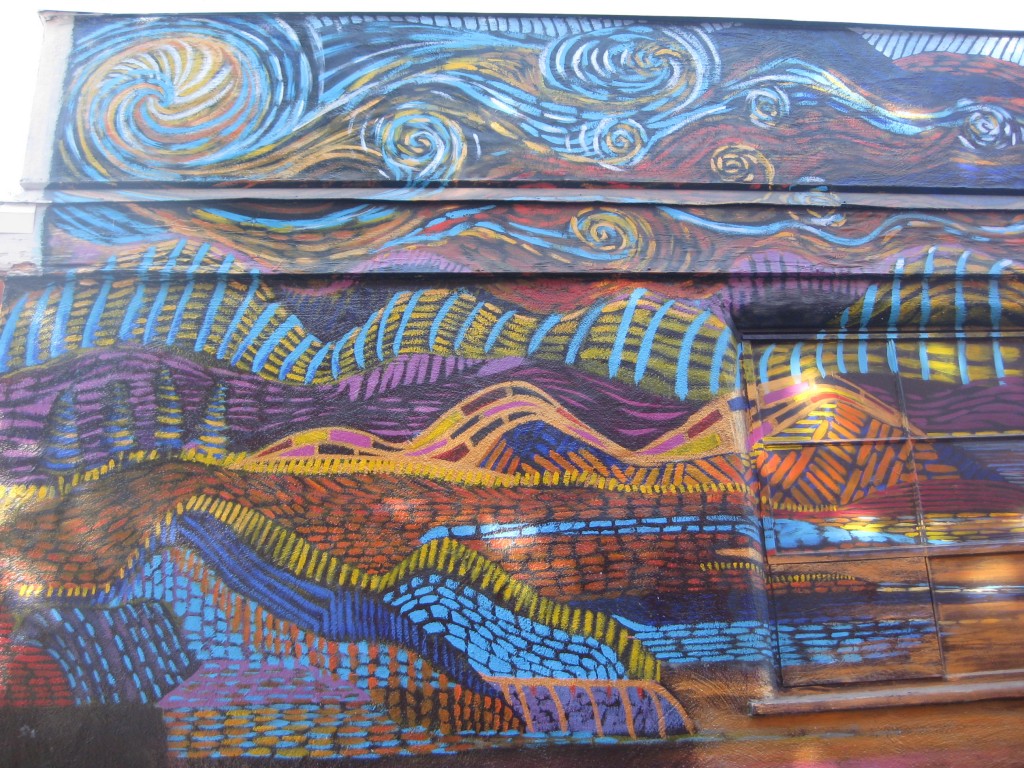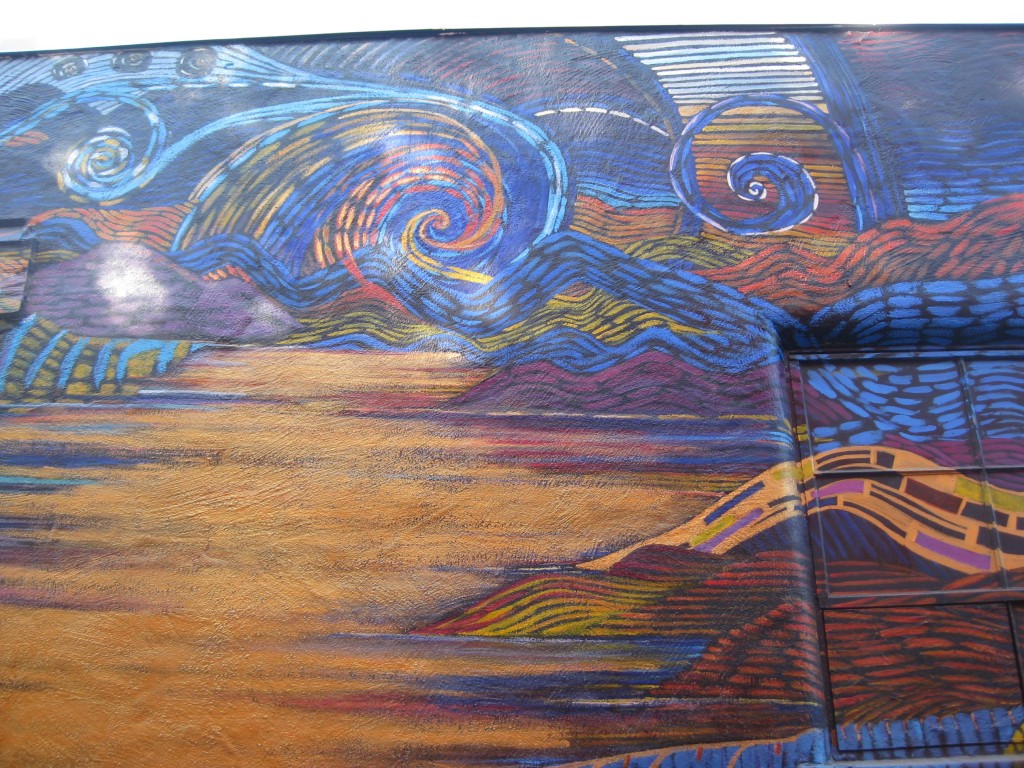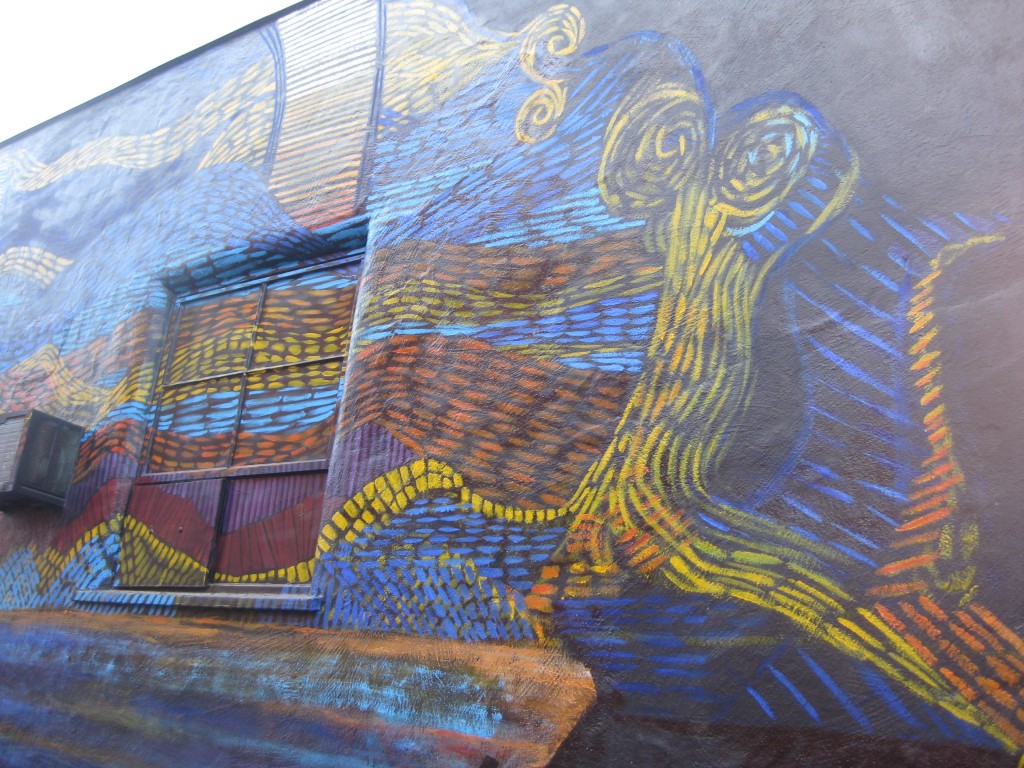 The Artist:
The silhouette figure on the far right (picture below) looks to be an image of the artist with her brush outstretched and color swirling from the tip. Russ Andris caught an actual photo of Moon on the scaffolding while she painted the mural.
During ARTober 2011, Moon was chosen as the Emerging Social Artist of the year in the Transforming Leaders award ceremony (4).
An artist profile page for Moon describes her as "…an artist, a clown of the underground, an old soul with a young heart sewn onto her sleeves. She truly believes her purpose for breathing is to create." (5) Moon explores many mediums including: paint, photography, carving, sewing, and welding (6).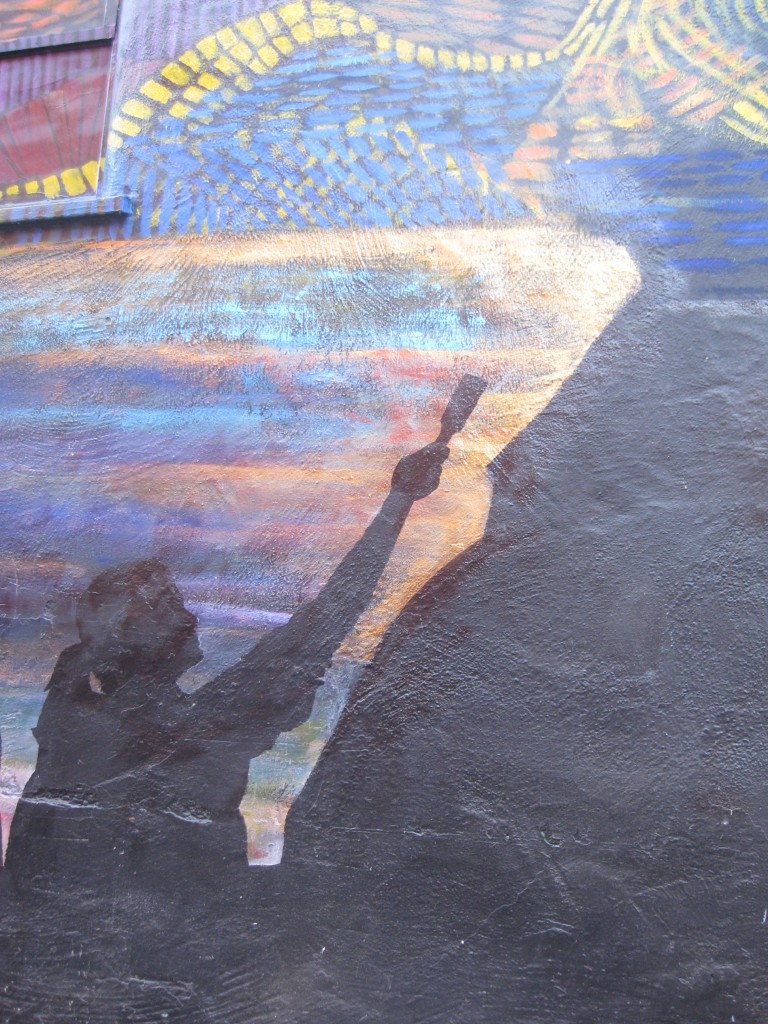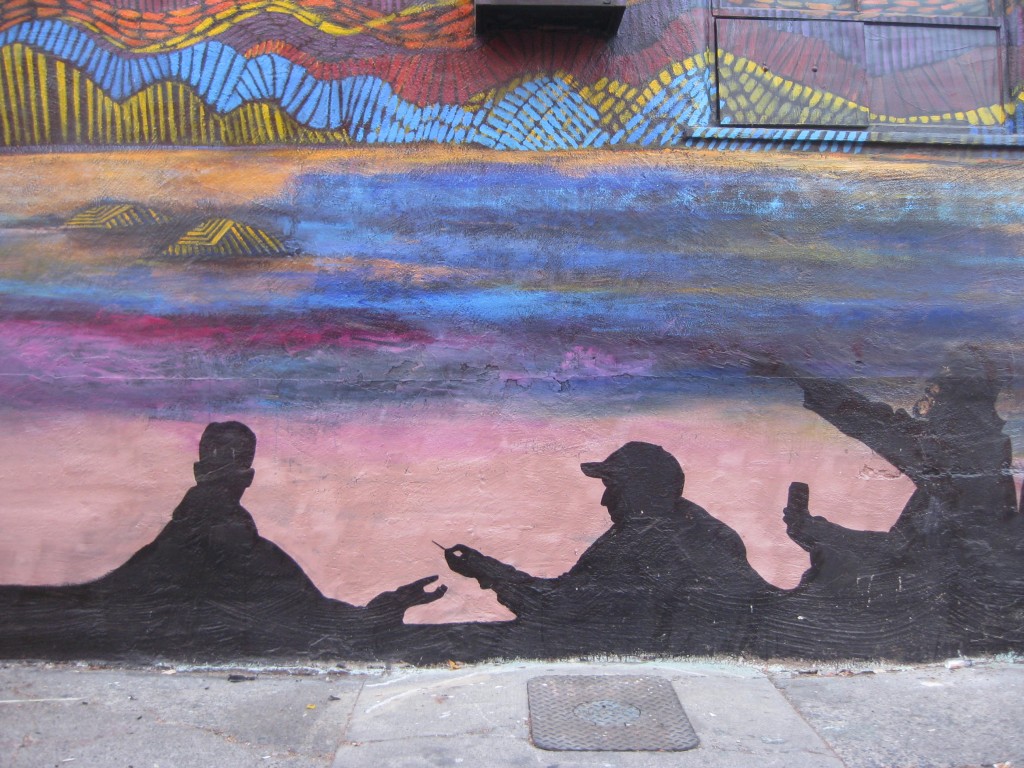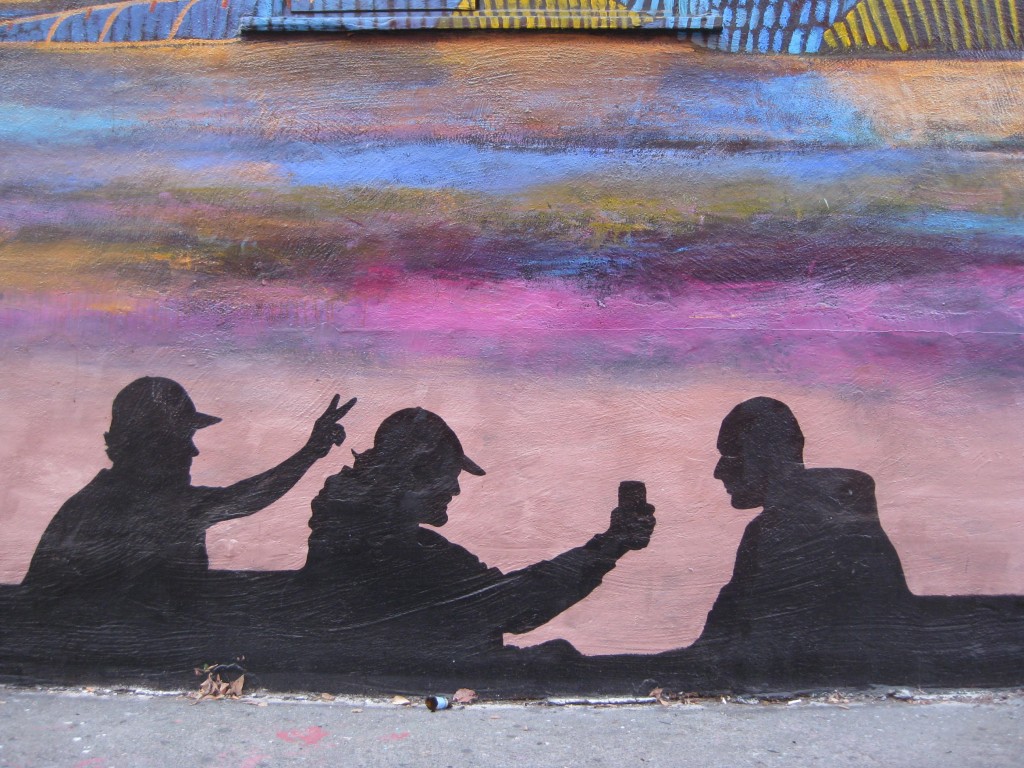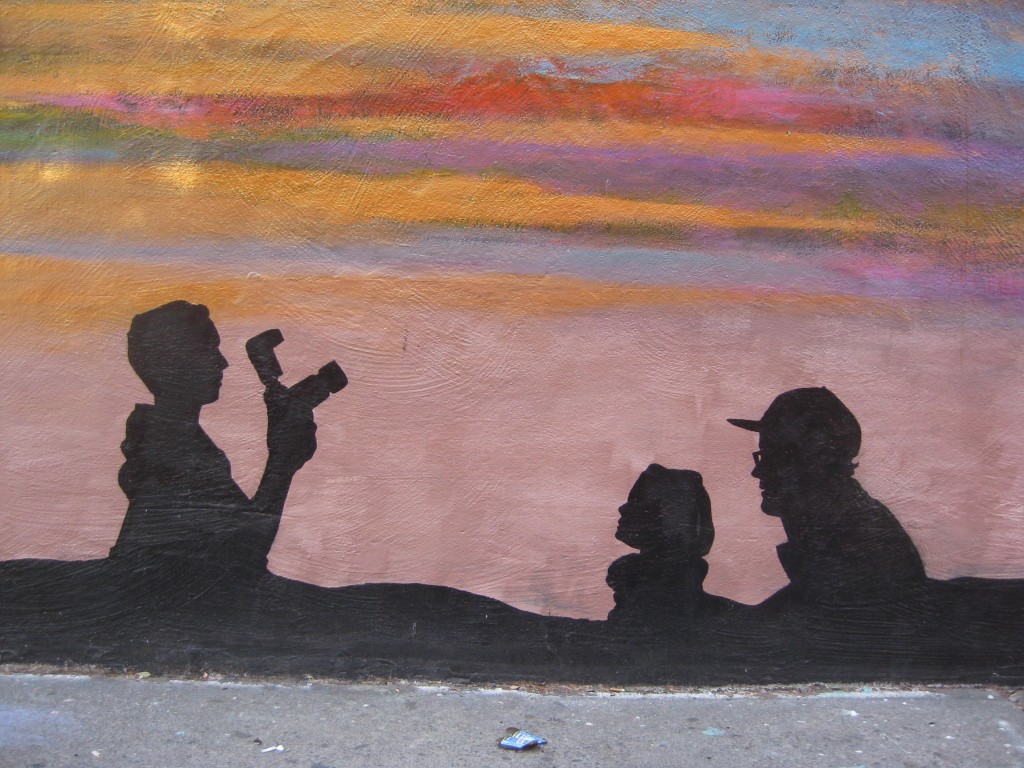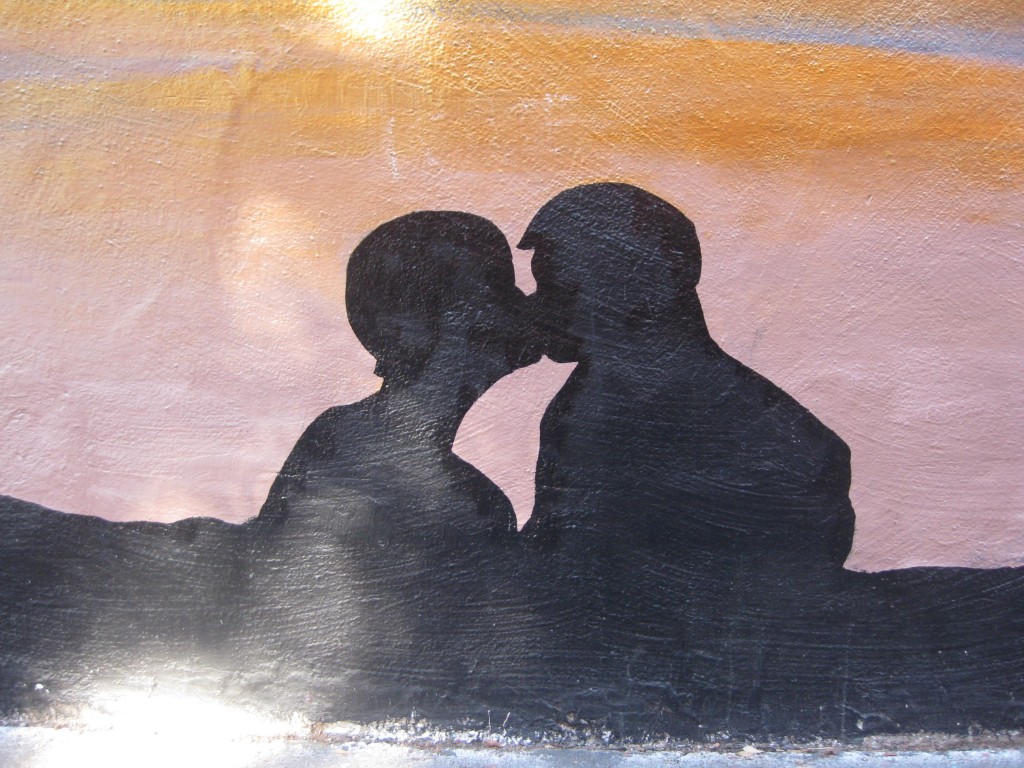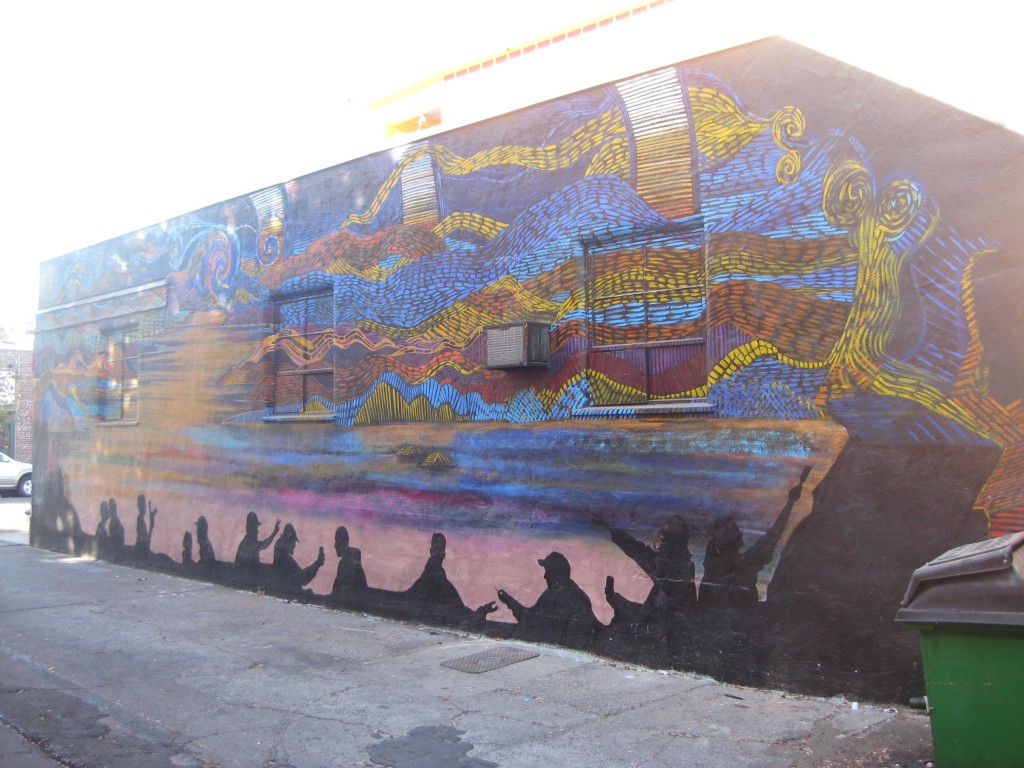 Title:
Artist: Lily Moon (Lily's facebook page, Lily's deviantART page)
Date: Nov 2011
Media: paint
Location: 1115 21st (on alley between J & K)

View Pedestrian Art, Sacramento in a larger map
(1) http://www.statehornet.com/campus/sacramento-s-street-art-takes-off/article_f8a8b008-6d5a-11e1-9cd0-0019bb30f31a.html
(2) http://www.statehornet.com/campus/sacramento-s-street-art-takes-off/article_f8a8b008-6d5a-11e1-9cd0-0019bb30f31a.html
(3) http://www.pbase.com/southyuba/image/139621351
(4) http://www.t2ps.com/t2Store/index.cfm?fuseaction=category.display&Category_id=13
(5) http://www.sactalent.com/emag/story/lily-moon
(6) http://www.sactalent.com/emag/story/lily-moon