The Fuller Poles at 16th & Q enliven the corner of the parking lot of what was once the Fuller Paint store. The sculpture was created by the designstudio of famed graphic designer, Saul Bass, as part of an identity campaign for the Fuller O'Brien Paint Company in the early 1960's (1). It consists of 81 poles set in a 9 x 9 grid (2).
Originally, all 81 poles were painted a different color (3). They have been repainted at least twice and reduced to about half of the original 81 colors. One site reports that the poles are currently painted 32 (4) colors and another reports 45 (5).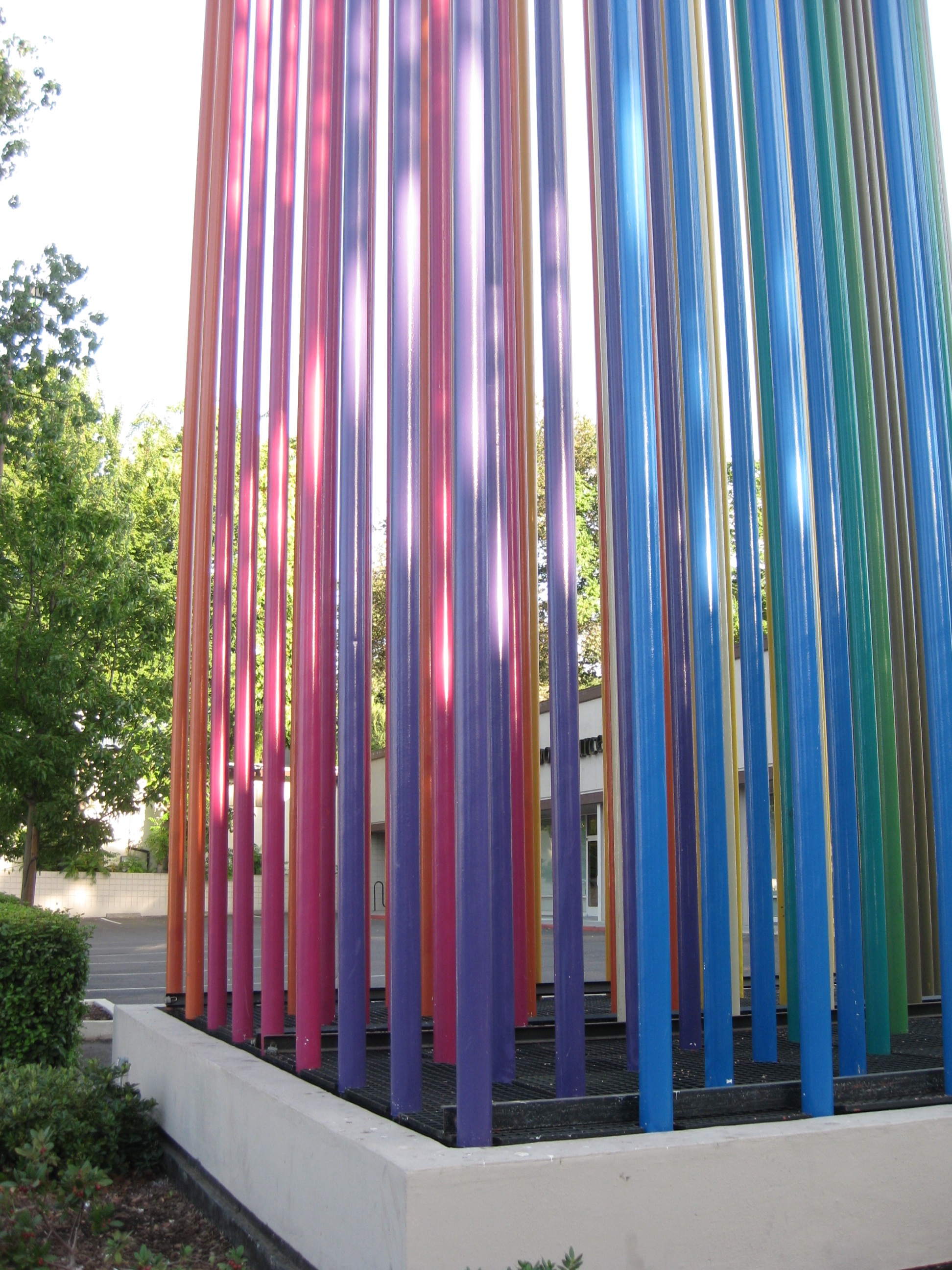 Bass subcontracted this 3D work to a friend, Herb Rosenthal, and the poles were actually designed by Dick Hastings who worked in Rosenthal's firm (6). Hastings eventually moved to Sacramento; he had an interest in historic buildings and became the city's first preservation director (7).
Researching this sculpture is the first I've heard of Saul Bass. He has an interesting design history:
Saul Bass was one of the nation's leading graphic designers from 1960 to 1990. He became famous for some of his logo designs for numerous national companies including Quaker Oats, Girl Scouts of America, AT&T, United Way and United Airlines. Bass was also known for his design of film titles, including Alfred Hitchcock's Vertigo and Psycho. (8)
The poles were first designed for the 1964 World Fair but they were never used for that project (9). Initially, they were designed to be freestanding so they would move with the wind. However, this design proved too costly, so a steel grid was attached to the top in order to restrain the poles from movement (10).
This sculpture is dubbed a Mid-Century icon in Sacramento (11). Mid-Century style "followed the Modernist fashions of the day, including then-new materials like concrete, glass and steel, and new styles inspired by Bauhaus, Prairie and International Style schools of architecture." (12).
Today, Midtown [Sacramento] is best known for its Victorian and early 20th century architecture, but examples of mid-century architecture and design can be found alongside century-old Queen Annes and heritage trees. During the mid-century era, Midtown's colorful Italianates were considered gaudy firetraps, Craftsman bungalows plain and uninviting, and revival styles simply unfashionable. Minimalist but bold, Modernism was far better suited to the exciting space-age era of high-speed freeways, jet airplanes, and nuclear power. (13)
Because the sculpture is on private property, it is not protected as public art. The fate of the Fuller Poles lies with the owner of the property. It is encouraging that the poles have been painted in recent years. It is also encouraging that during the opening celebration of BloodSource (the current tenant) in Oct 2009, they handed out "a special poster to celebrate the BloodSource center, its donors and the Saul Bass commissioned poles" (14).
Under the grid is an array of lights and here is a fabulous nighttime photo from another blog:
Title: Fuller Poles
Artist: Saul Bass / Dick Hastings
Date: 1960's
Media: Metal
Location: 16th & Q

View Pedestrian Art, Sacramento in a larger map
(1) http://www.yelp.com/topic/sacramento-the-fuller-paint-poles-have-been-re-painted
(2) http://mehallo.com/blog/sacramentos-saul-bass-sculpture
(3) http://www.flickr.com/photos/24047957@N06/3893675737/
(4) http://mehallo.com/blog/sacramentos-saul-bass-sculpture
(5) ://www.yelp.com/topic/sacramento-the-fuller-paint-poles-have-been-re-painted
(6) http://mehallo.com/blog/sacramentos-saul-bass-sculpture
(7) (http://www.midtownmonthly.net/life/midtown-moderne/
(8) http://mehallo.com/blog/sacramentos-saul-bass-sculpture
(9) http://www.flickr.com/photos/24047957@N06/3894475454/in/photostream/
(10) http://mehallo.com/blog/sacramentos-saul-bass-sculpture
(11) http://www.midtownmonthly.net/life/midtown-moderne/
(12) http://www.midtownmonthly.net/life/midtown-moderne/
(13) http://www.midtownmonthly.net/life/midtown-moderne/
(14) http://www.bloodsource.org/NewsRoom/NewsReleases/091030MidtownOpenHouse/tabid/88/default.aspx