This ceramic tile mural on the California Energy Commission building at Ninth & P was created by Roy De Forest (1). The mural is about 60 feet long (2) and is described as a celebration of farming in the Sacramento area (3). I also see elements of Sacramento area history and landscape with the Native American man (top image just above the horse and bottom-left detail image below) and the Sierras in the distance (top-right detail image below).
The contract for this mural was part of the art funding in the Capitol Area Plan (4). De Forest spoke with Lynn Robert Matteson in an oral history interview and described how the tiles were created, given that he hadn't previously worked with tile:
"I just got a big piece of paper – a big, you know, 10 – 12-foot high paper and got samples of tile by going to Mexico and I got a palette of individual colors of the glazes. So then I mixed up batches of color matches and then the big scenario was in my studio. And then I rolled those up and sent them to Mexico and they had some local artists or peons there or whatever you would call them paint each tile." (5)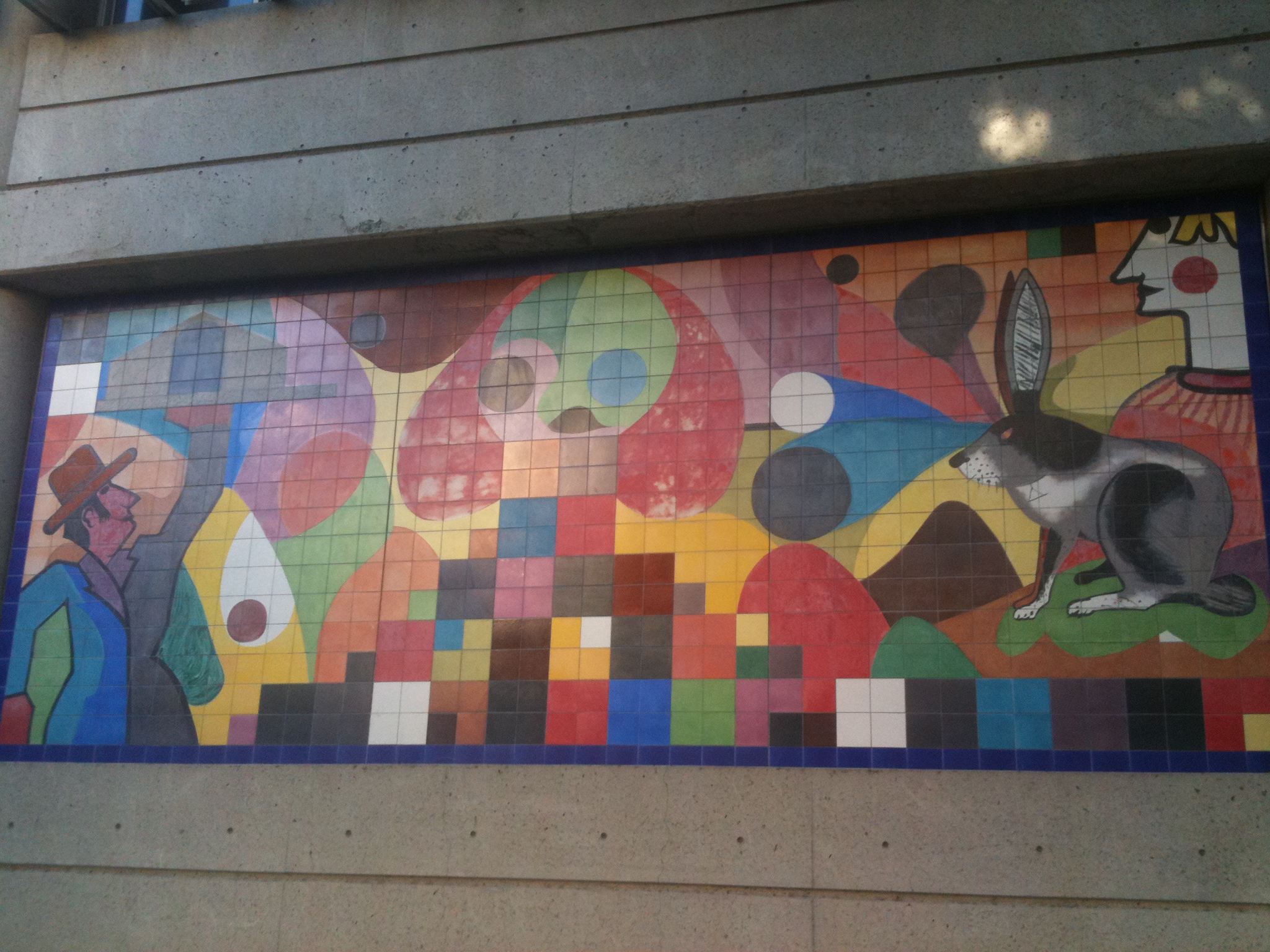 De Forest came to California in the 1950's to study art and was involved early in the California Funk movement (6). This movement was also called Bay Area Funk or California Myth-Making (7).
[H]is paintings, drawings, and prints evolved into the brilliantly patterned mystical geographies, through which romped his signature dogs, wandering semi-humans and phantasmagoric traveling beasts. These visually compelling canvasses filled larger and more dazzling spaces with gleeful, self-reverent, yet serious and sophisticated images (8)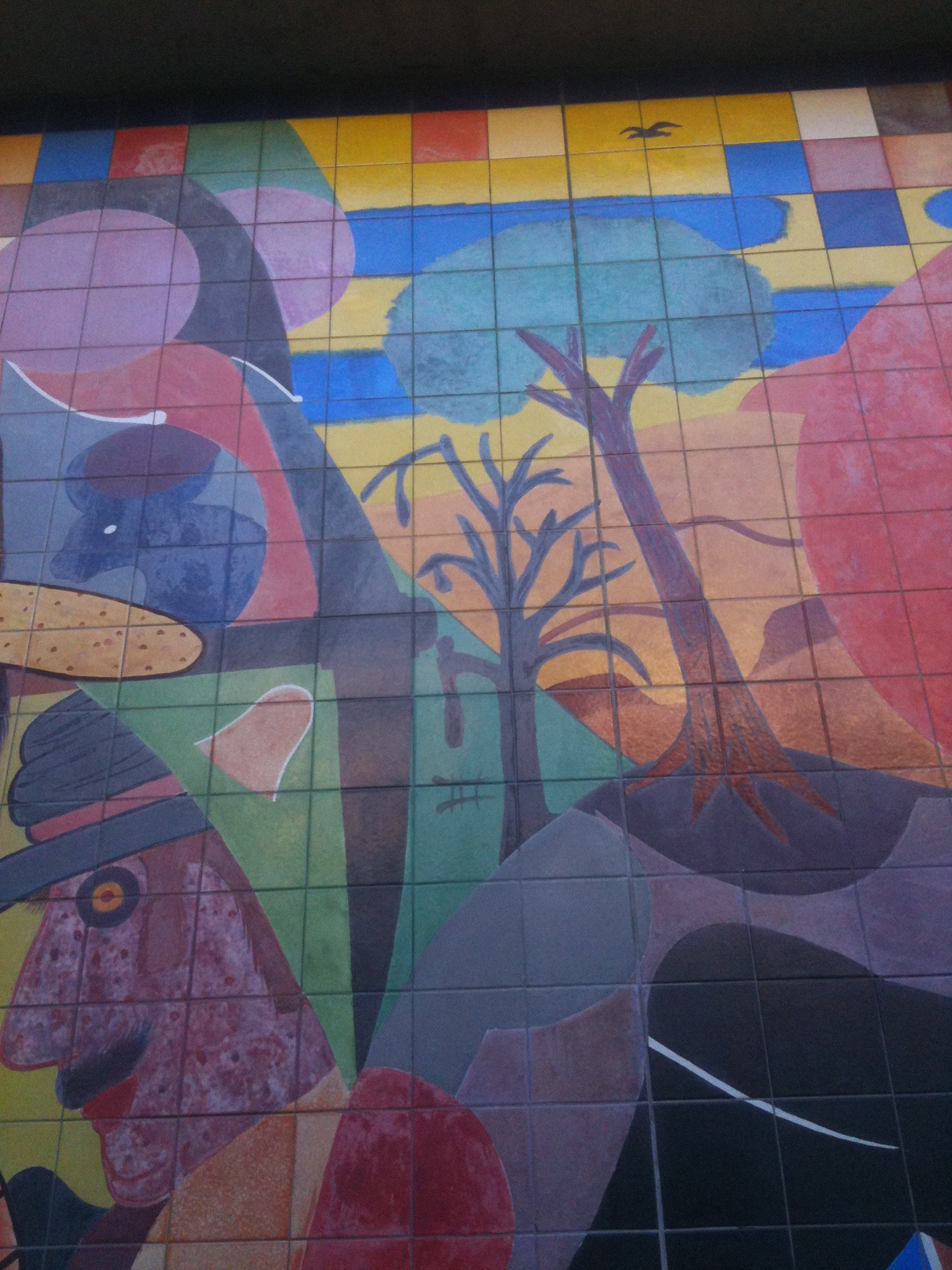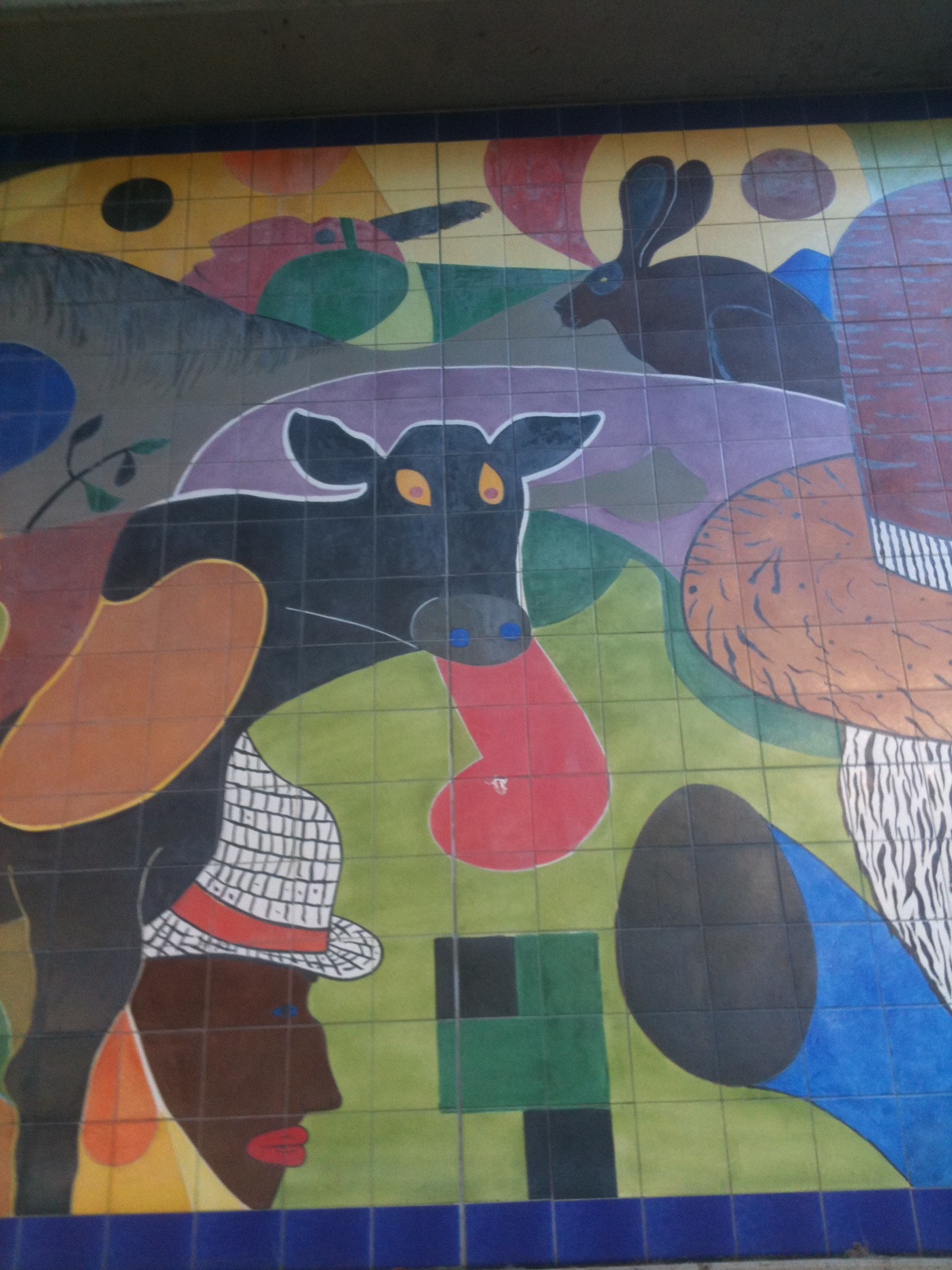 On a visit to SFMOMA several years ago, we happened to buy a small print of a De Forest painting and it demonstrates the dog-themed works that he is most known for:
"De Forest liked dogs, beady-eyed, tongue-lolling dogs," explains Associate Professor of Art Julia Marshall in a teacher's guide for a 2007 exhibit of De Forest's work. "Repeated over and over in his many paintings, they are like a running joke, a crazy nonlinear story that continues from one picture to the next. These pictures are visually striking and fun to look at and De Forest always claimed that they were fun to make. That's why he did them." (9)
The mural below is installed in the San Francisco airport and uses an entirely different color palate but some similar imagery as the Ninth & P mural.
More images of De Forest's works are available on artnet and on the John Natsoulas site.
Title: (unknown)
Artist: Roy De Forest
Date: Unknown
Media: Painted Ceramic Tile
Location: 1516 Ninth Street

View Pedestrian Art, Sacramento in a larger map
(1) http://www.highbeam.com/doc/1G1-3410659.html
(2) http://www.aaa.si.edu/collections/oralhistories/transcripts/defore04.htm
(3) http://www.highbeam.com/doc/1G1-3410659.html
(4) http://www.documents.dgs.ca.gov/Legi/Publications/2009LegislativeReports/CapAreaPlanProgress.pdf
(5) http://www.aaa.si.edu/collections/oralhistories/transcripts/defore04.htm
(6) http://www.natsoulas.com/html/artists/royDeForest/Roy.html
(7) http://www.sfartscommission.org/pubartcollection/pubart-projects/2008/10/20/public-art-projects-list/
(8) http://www.natsoulas.com/html/artists/royDeForest/Roy.html
(9) http://www.sfsu.edu/~sfsumag/archive/fall_09/final.html