Several artists' works are integrated into Fremont Community Gardens at 14th & Q. The garden is part of the City Parks & Recreation program; the 52 plots are 'rented' to members of the community (1), and gardeners practice sustainable organic gardening. There are twenty eight small plots (10×10), twenty large (10×20) and four ADA raised plots (2). The garden art includes a gazebo, a windmill, a tiled entrance walk, and tomato and carrot sculptures doubling as bike racks.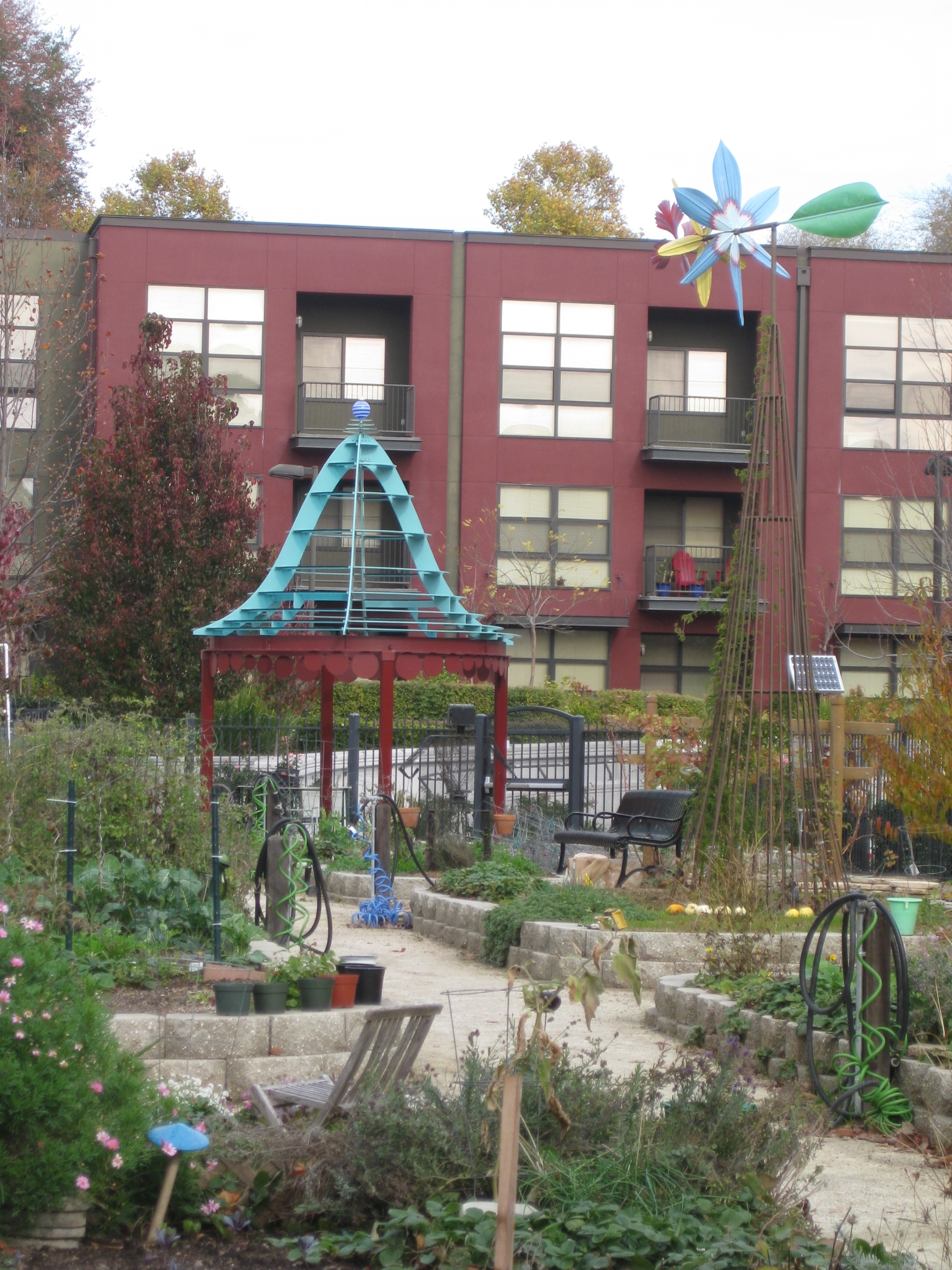 The site of Fremont Community Garden has an interesting history…
It was originally home to the Ron Mandella Community Garden (3). This state-owned, undeveloped land was zoned for housing, but it had been used as a community garden for 30 years and was "a central gathering point for gardeners, residents, children and state workers on their lunch hour" (4). In 2001, Capitol Area Development Authority (CADA) announced that the garden land was to be reclaimed by the state and developed into residential use (5):
[This] became a difficult time for the entire community. This pitted those who wanted to keep the site as a garden against those who wanted it developed into housing. In 2002, CADA and the State Department of General Services committed to retain 100% of the community garden square footage. This was accomplished by acquiring a half city block near Southside Park. The land was developed for the new Southside Community Garden located at 5th and W Streets. This garden represented two-thirds of the original Mandella Garden space. Concurrently, CADA and the State set aside one third of the Mandella site to continue as a community garden, now called the Fremont Community Garden. (6)
Soil testing showed toxins in the soil which needed to be removed (7). A California EPA grant was used to remove 24 inches of soil from the entire garden for a total of about $450,000 (8). The soil near the roots of the walnut trees could not be cleaned, and so this area is now used for two bocce ball courts (9).
According to an article on the garden by Anne Hart, Lynette "Squeaky" Fromme, who is a former Charles Manson follower, and the man who pointed a gun at president Gerald Ford in 1975, was a community gardener at the Ron Mandella Community Garden in the 1970s (10).
Now back to the public art…
The steel and glass gazebo called "Bell Pagoda" was created by Chico artists, Patrick Collentine and Susan Larsen (11, 12):
The artists have explored the bell curve form in other works, and in this installation, the pagoda is referred to as a tribute to Sacramento's Asian history, particularly because the area of Fremont Gardens was once Japantown (13).
Collentine and Larsen are CSU Chico alums and prolific public artists (14, 15, 16). They have a radio show on KZFR called Sonic View where you can "listen to the sounds of poets, artists, and music experimenters, from the 20th Century sound pioneers to the voices and visions of contemporary artists." (17).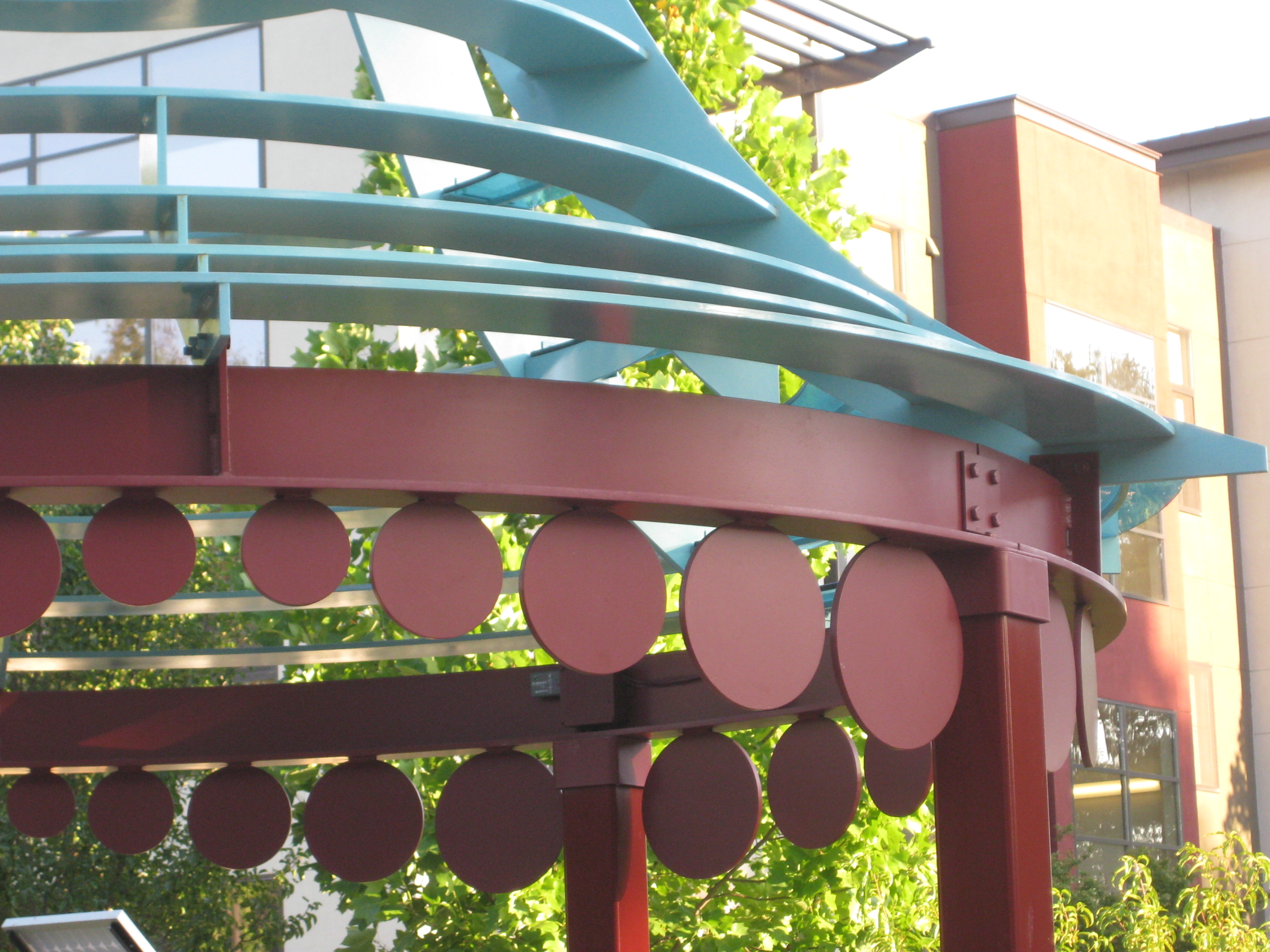 The gazebo has a solar powered neon light structure (18). I've driven by at night but have yet to catch it when it is lit.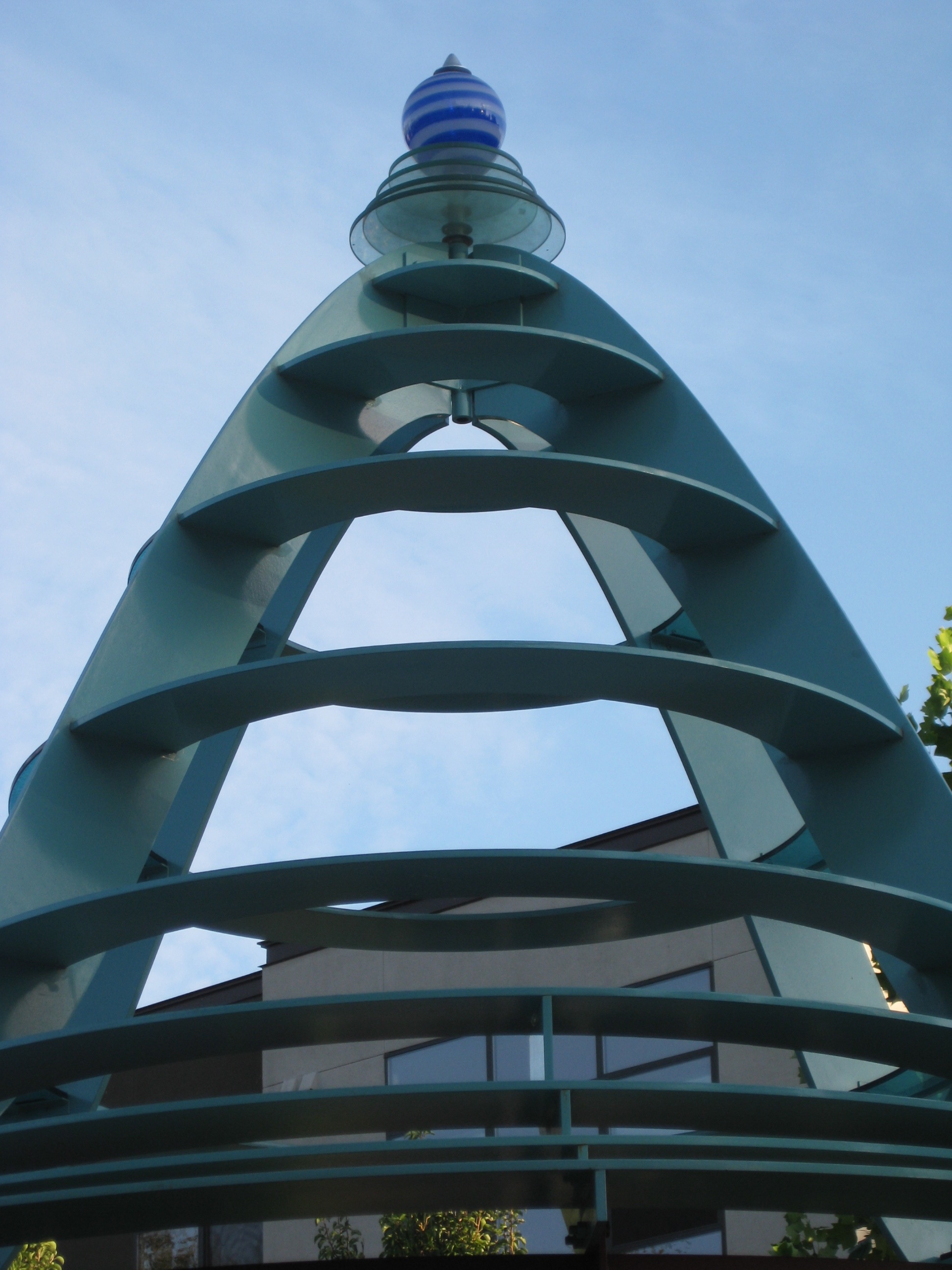 In another project or theirs, Collentine and Larsen take photos in different locations with a 6-foot-tall photographer's color bar; this project is called kolorbar and you can see some of the photos of the bar with Cristo's Gates , in the redwoods, and at Burning Man under a double rainbow. Their main webiste appears to be kolobar.com, and this neon art website, Tesla Neon, seems to be associated with the two artists as well.
Larry Meeks created the carrot and tomato sculptures (19). These funky vegetables function as bike racks. Two carrots and a tomato sit along the grass outside the garden and a pair of each are inside the garden.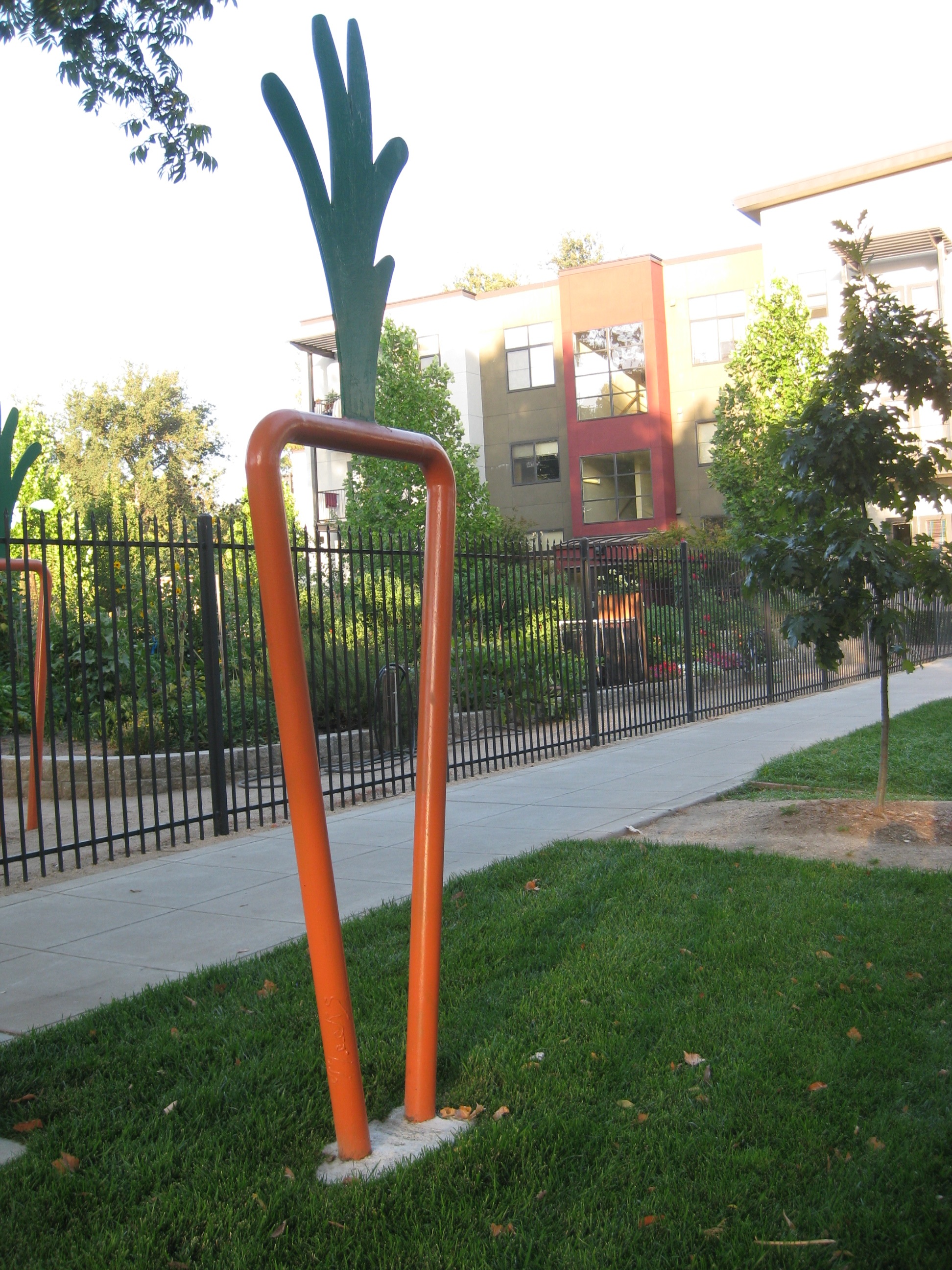 Meeks' website contains a photo gallery of some of his works. He primarily works in metal (steel, brass, bronze and copper) and indigenous river stone (20). The site describes his artwork as flowing "from natural settings and many times reaches the edge of surrealism. He believes that art should make a bold statement and evoke the inner emotion of the viewer" (21).
Meeks public art work can be found around Sacramento including the willowy gates to the inner courtyard of the Shepard Garden and Arts Center in McKinley Park, and the steel trellises at the World Peace Rose Garden in Capital Park (22). Sacramento Metropolitan Arts Commission lists 6 pieces by Meeks in their online Art in Public Places Collection. The rain collecting lady bug is a must see.
Meeks is quite active outside of his art (23). He is a syndicated columnist who has written a column called, Ethnically Speaking, since 1991. The creators.com site lists Meeks as a pastor of a church, but I was unable to locate a church website for more details (24).
The windmill and the tiled entrance walk were created by Numan Begovic (25). The windmill looks like it will soon be draped by the vine growing on up its wooden structure.
Fall leaves blocked my view, but Sac Metro Arts has a nice photo of the tiled entrance Begovic created for the gardens, which is called "Spirit of the Garden". They also have a nice photo of the windmill, which is called, "Spirit of the Garden II". Begovic has numerous other works around Sacramento, Sac Metro Arts lists 9 public art works by him.
Begovic and his wife, Yasmina, were choosen for Sacramento & Co's "Get Inspired" series for November 18, 2010. The video interview tells some about his history and art. He emmigrated from Bosnia and his art is in numerious mediums including stone, metal, ceramic, and wood. He incorporates memories of his life as symbols within his art (26).
The interviewer asks Begovic why art in public places is important, and he replies, "I think everyone needs art" (27).
Title: Fremont Community Garden
Artist: Numan Begovic, Larry Meeks, and Patrick Collentine & Susan Larsen
Date: 2007?
Media: Metal, wood, ceramic
Location: 14th & Q


View Pedestrian Art, Sacramento in a larger map
(1) Fremont Garden google group
(2) Fremont Garden google group
(3) Examiner article
(4) CADA project list
(5) CADA project list
(6) CADA project list
(7) CADA project list
(8) Examiner article
(9) Examiner article
(10) Examiner article
(11) Sac Metro Arts newsletter
(12) Chico News & Review article
(13) Chico News & Review article
(14) CSU Chico Humanities newsletter pdf
(15) Chico News & Review article
(16) Chico News & Review article
(17) www.kzfr.org/sonic-view
(18) Tesla Neon
(19) Sac Metro Arts – Art Tour PDF
(20) www.artworkunltd.com
(21) www.artworkunltd.com
(22) Sacramento Magazine Best Of
(23) creators.com profile
(24) creators.com profile
(25) Sac Metro Arts – Art Tour PDF
(26) Sacramento & Co Get Inspired Video
(27) Sacramento & Co Get Inspired Video