Another corner market sporting an urban tattoo to liven the street. This mural is on the east wall of American Market & Deli and is attributed as a collective work by Shaun Turner, Daniel Osterhoff, and Miguel Bounce Perez (1).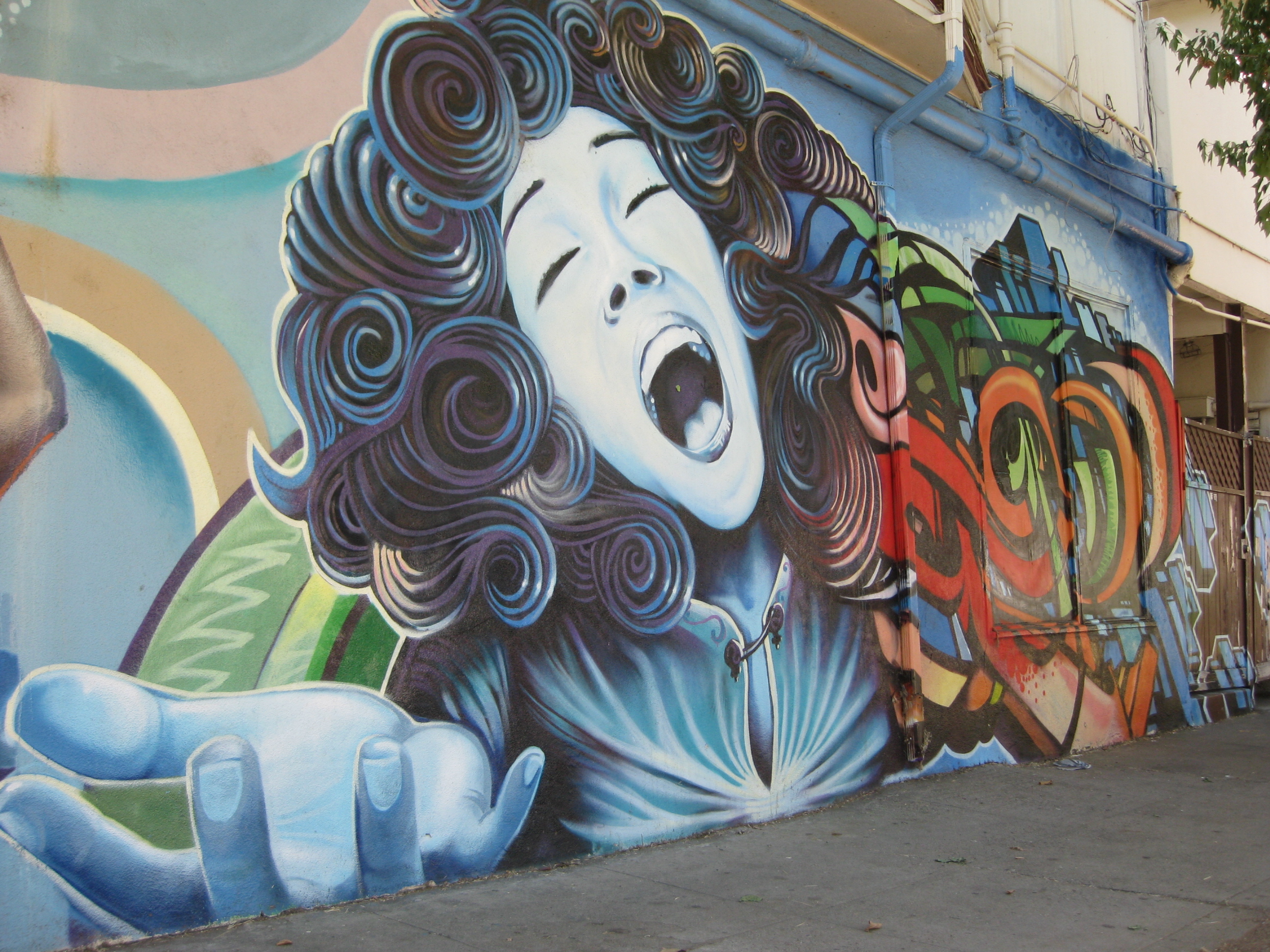 Barbara Steinberg credits Bonnie Shafsky, a local landscape designer, with the term "urban tattoo" which refers to 21st-century murals (2). Steinberg describes her appreciation for urban tattoos:
One has to love this innovative wall art. Its edgy and funky appeal makes less attractive buildings seem born again. And our wonderful city streetscape is taking on a far-out chic appearance that is strangely reminiscent of the '70s psychedelic (3)
Earlier this month, I posted on another urban tattoo, Dimple Records Mural, which was created by Turner and Osterhoff in 2008.
Osterhoff is a mural artist and DJ. He is described as a "designer, artist, musician, all-around Midtown neo-Renaissance party man… surprisingly focused, even serious, for a guy who joneses to dance and deejays under the alias "DJ Whores." (4). His website is http://www.myspace.com/djwhores916
Bounce and Turner are part of a group called, Trust Your Struggle, which "is a collective of visual artists, educators, and cultural workers dedicated to social justice and community activism through the medium of art." (5).
Our collective strives through art and visual mediums to back and support anyone who is pushing to make the changes we all are looking to see in the world.We want you to believe that whatever you are going threw in the name of your peoples is valid and worth having faith in so we bring it to the frontline to remind folks that when it comes to the people's struggle, well in the words of T La Rock "it's yours!!" so trust it, believe in it, love it, give it your all, but don't ever let nobody take it from you (6).
You can read more about the group at these sites: http://tys.mvmt.com/, http://www.erinyoshi.com/, http://trustyourhustle.blogspot.com/.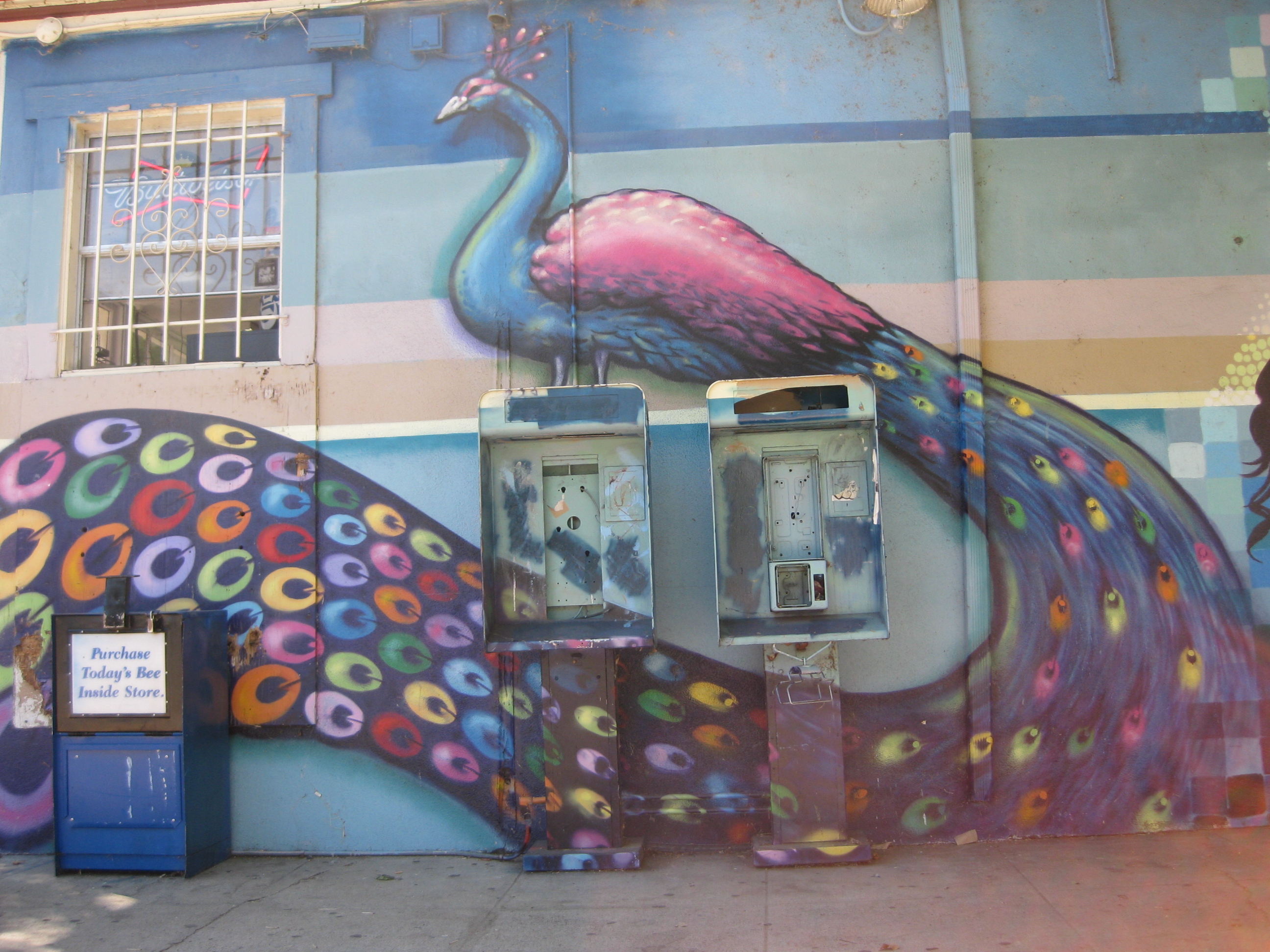 Many of the images under the 'Paint' section of Bounce's website are hauntingly beautiful. I particularly love "NO MAMES GUEY".
Russ Andres has nice shot of the entire mural that he took when the paint was still fresh and the trees had lost their leaves, making the mural more visible.
Title: (unknown)
Artist: Shaun Turner, Daniel Osterhoff, and Miguel Bounce Perez
Date: 2007 (not confirmed)
Media: Spray Paint
Location: American Market & Deli, 24th & N

View Pedestrian Art, Sacramento in a larger map
(1) http://www.beachcalifornia.com/california/urban-tattoos.html
(2) http://www.beachcalifornia.com/california/urban-tattoos.html
(3) http://www.beachcalifornia.com/california/urban-tattoos.html
(4) http://www.newsreview.com/sacramento/content?oid=1352985
(5) http://tys.mvmt.com/about/
(6) http://www.myspace.com/trustyourstruggle#ixzz0yfs7EgHe