Part 3 of the Midtown Mosaic series focuses on several more sections of this expansive mural which includes the work of more than 60 artists. The project was conceived and coordinated by Sacramento's Midtown Alley Project (MAP).
If you missed it, be sure to start with part 1 and part 2 of the Midtown Mosaic series.
Click on any photo to see a larger image.
In the center of MAP's Midtown Mosaic mural is a map of a several block area in midtown. Ironically, I have yet to discover the artist for this central piece in the mural.
This young woman with the arresting gaze is titled, 'Wishful Thinking', and is the work of Skip Lee. Lee's work grows from the Abstract Expressionists such as deKooning, Gootlieb, Kline and Rothko. His website's gallery of paintings shows an interesting array of style within his inspirational abstract approach, I'm particularly drawn to the painting titled, V Mary. (skipleeart.com)

Whimsical heart-faces by Clare Bailey, aka the Guardian Angel of this mural.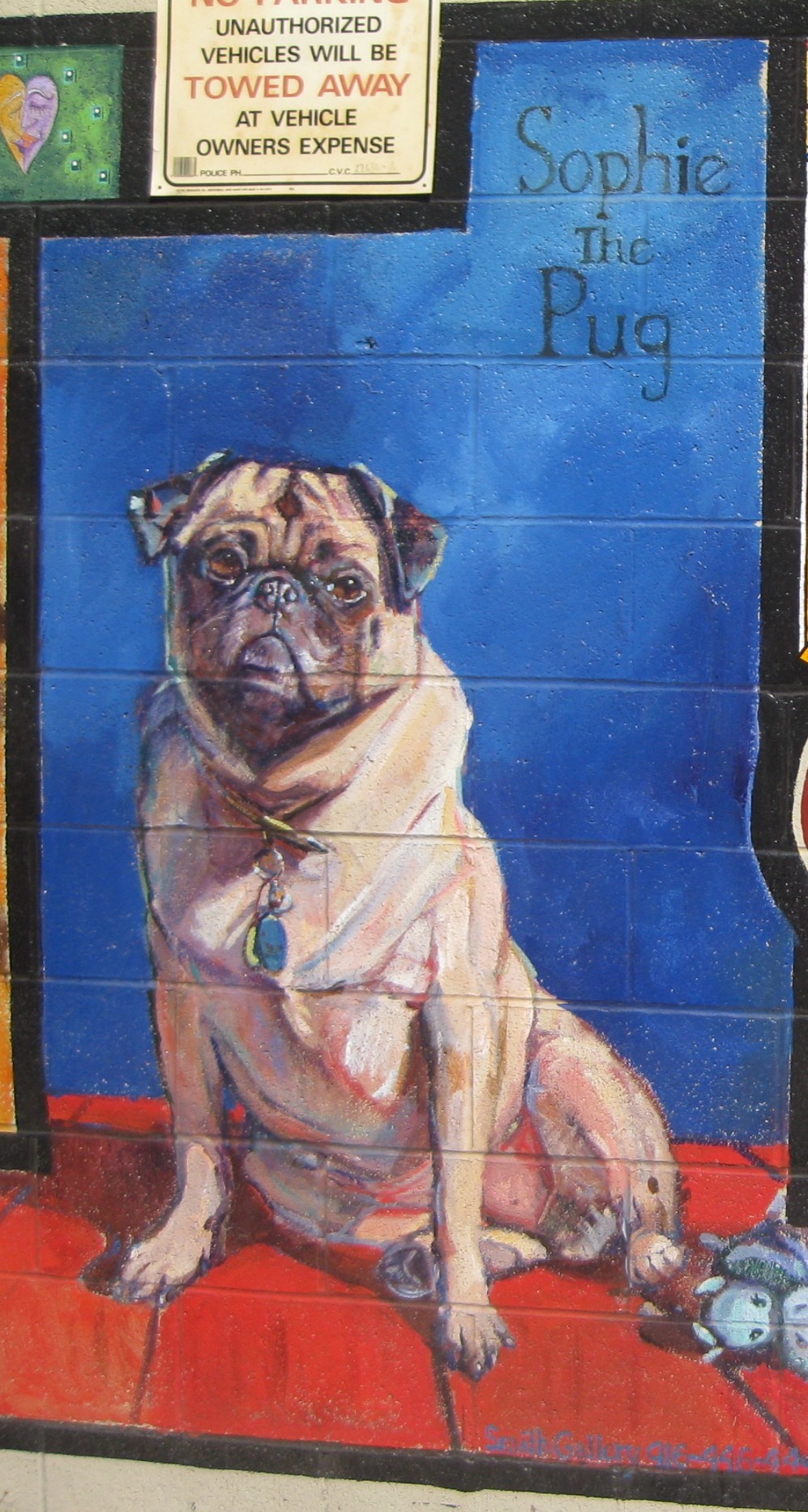 Steve Memering painted a portrait of, Sophie, their family dog. You can see Steve and his porky pug, Sophie, in this video by Russ Andris. A dog portrait is not Memering's usual subject matter. He is known for painting local Sacramento scenes as well as other images from his travels in his "fantasy realism" style. (www.stevememering.com)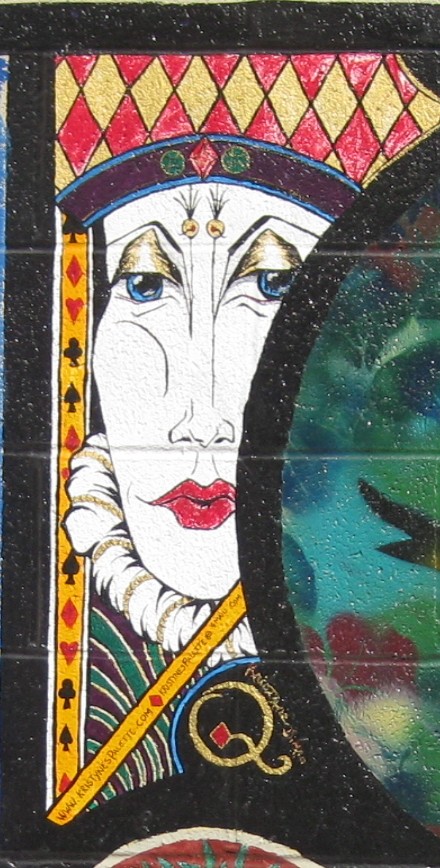 The Queen of Diamonds was painted by Kristyne DiMeo. Kristyne works in many mediums; she paints, creates dolls, create masks, fiber arts, and paper arts. (http://www.kristynespalette.com)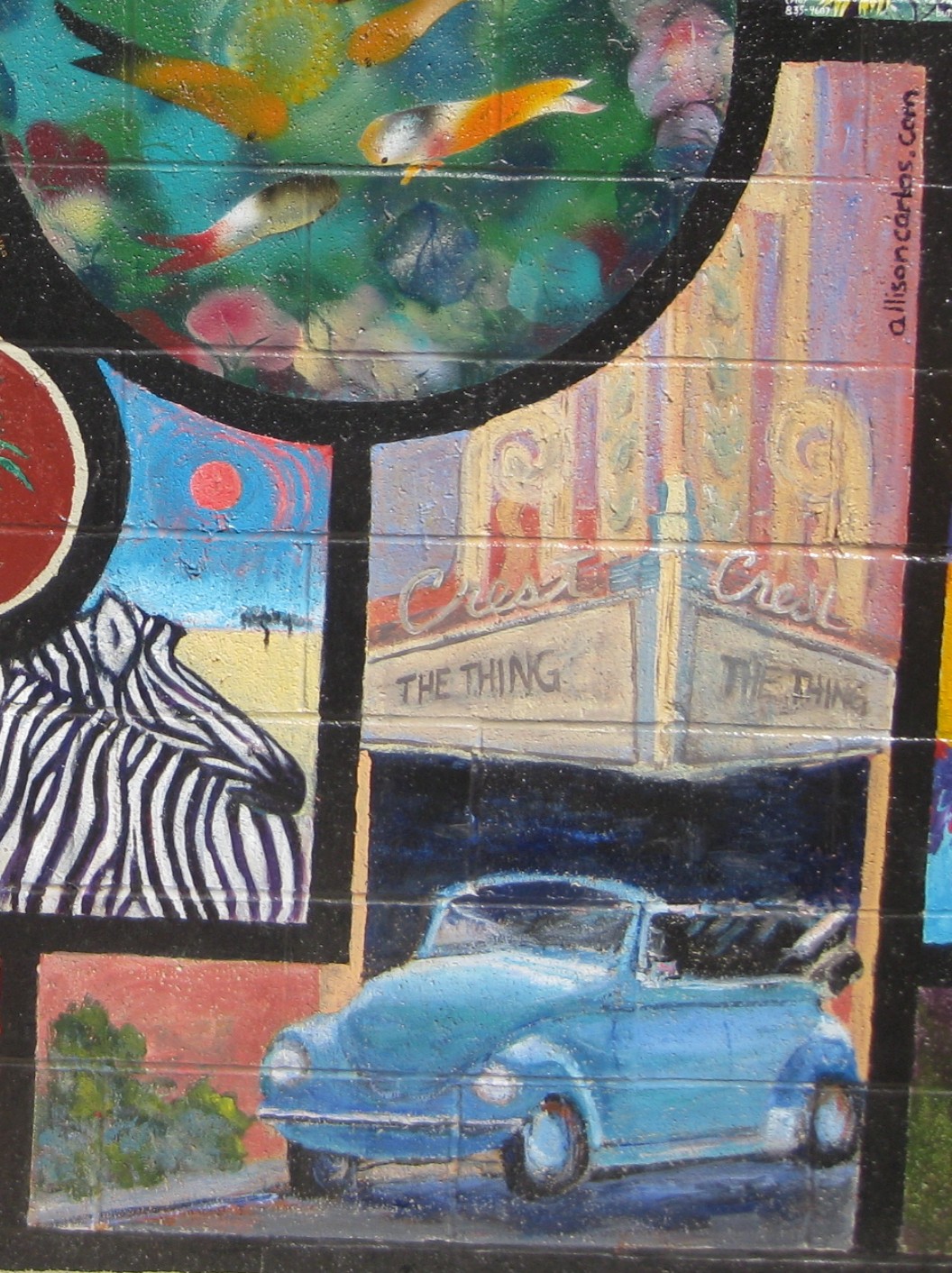 Sacramento theater icon, The Crest, was painted by Allison Carlos. For nearly 100 years, the building that is home to the Crest has housed several theaters; starting as the Empress in 1912, then the Hippodrome, and finally opening as The Crest in 1949 (1). (allisoncarlos.com)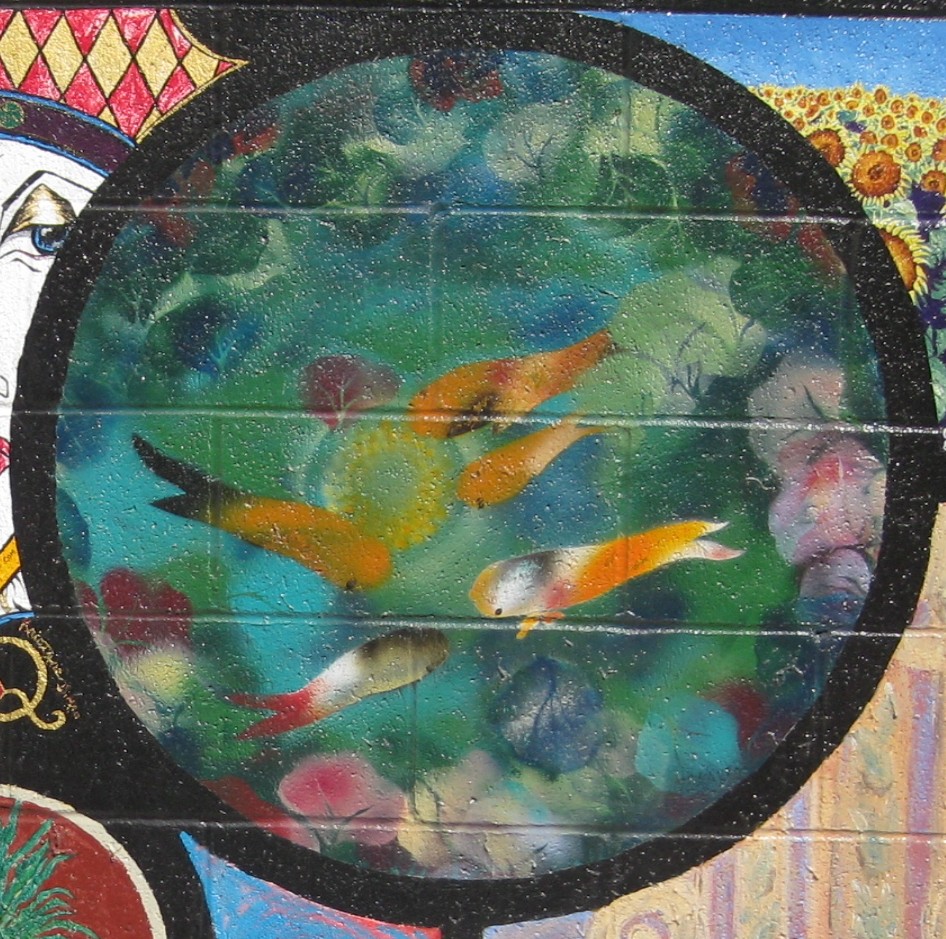 Watery fish image by David Hayes.
Two zebras on the Serengeti by Gabriella Bargellini.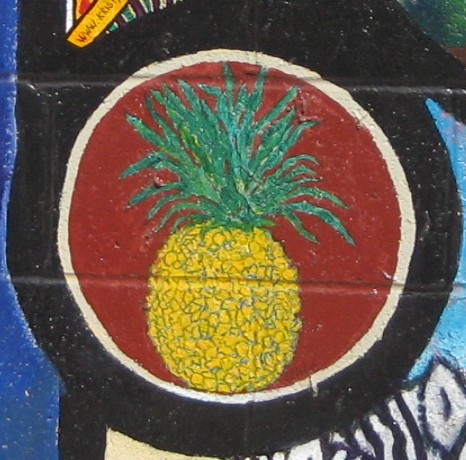 A pineapple piece by an artist who remains a mystery so far.

Judith Monroe combined painting and photography to create this landscape image. (www.judithmonroe.com)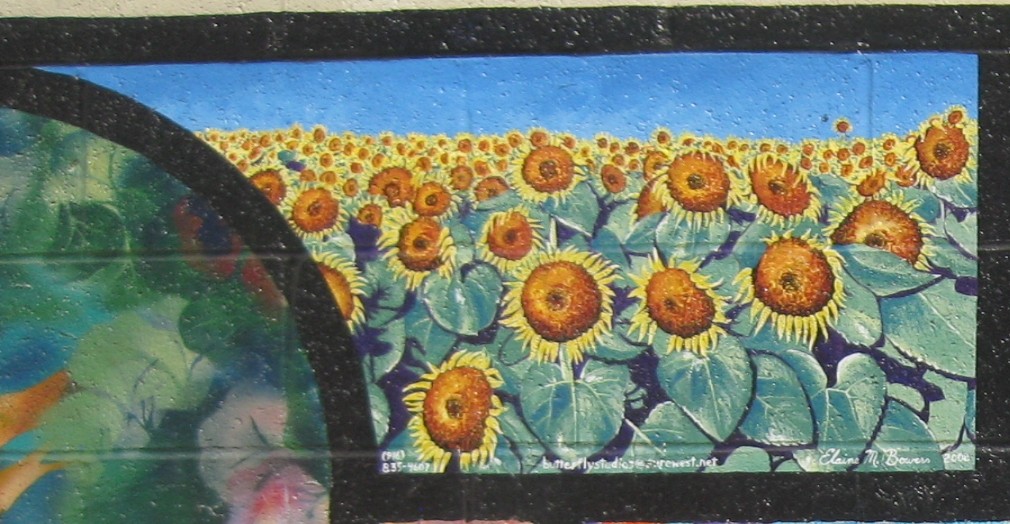 A field of bright sunflowers by Elaine Bowers.
A dead bird by David Hayes is an unexpected quirky image in the mural. These next two images are also by Hayes:
He gets my unofficial prize for the widest array of styles in his three pieces on the Midtown Mosaic mural.
This portrait of a serene looking woman with the blue head-scarf was created by artist Steve Duroncelet. The portrait was inspired by a photo of his wife and the heart background was inspired by pop artist, Keith Haring. (www.duroncelet.com)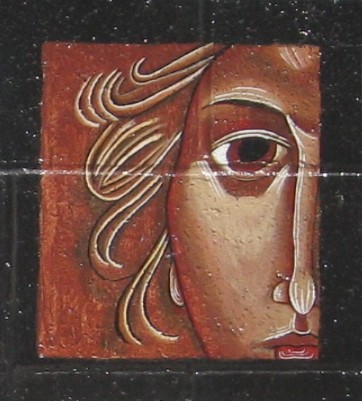 This image has a great story behind it. In the early stages of the mural, as the graphic outline of the mosaic took shape along the wall, Sister Anne Sekul, from the group of nuns living in a house near-by, came over to learn about the project.She ended up contributing as an artist by painting the angelic looking portrait.
Striking floral by Karen Dukes, whose vibrant style is evident in her website gallery. My favorite is this butterfly. (www.karendukes.com)
This pomegranate image is signed by TMS.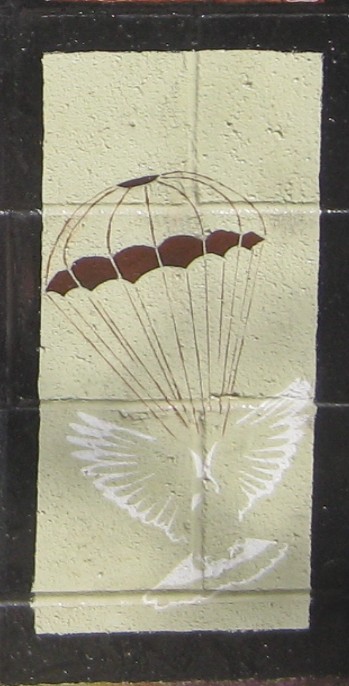 Based on Russ Andris' site, this image seems to be by Joel Bowman.
Next up, part 4 of the Midtown Mosaic series.

Title: Midtown Mosaic
Artist: 60+ different artists coordinated by Midtown Alley Project
Date: 2008/2009
Media: Paint
Location: Alley between K and L on 23rd Street


View Pedestrian Art, Sacramento in a larger map